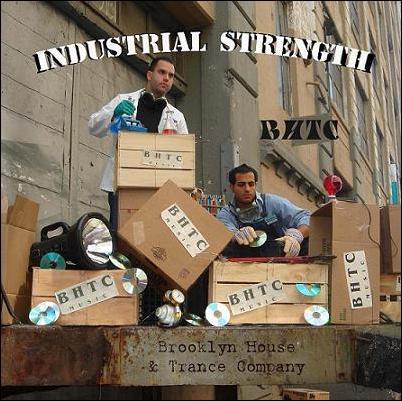 Brooklyn, New York (PRWEB) March 10, 2007
BHTC Music releases the compilation CD "Industrial Strength". The LP contains a variety of Electronic Dance Music with singles climbing Top 40 record pool charts. The album covers Progressive, Funky, Tribal and Hard House. In addition a Trance and vocal House track complete the collection. A total of eleven tracks were produced and arranged by Dave Perez and J.Ostia.
Climbing the charts at #23, "Infatuation 2007" produced by J.Ostia, is a remix of the 1983 Dance Classic. By looping the bass line and melodic portions of the track, "Infatuation 2007" is the latest in the series of 1980's dance tracks to be remixed today. The looped baseline makes way to the signature synthesizing sounds and displays the funky and progressive styles that Ostia has to offer.
The vocal House track "Don't Bother Me" was produced by Dave Perez and performed by vocal artist Nadya. The production has sounds that resemble some of the classic house tracks of the late 80's and early 90's in dance clubs. "Don't Bother Me" is a song that many urban females could relate to; a relationship gone bad with the one you loved most. To date the track has peaked at #28.
Featured tracks also include "The Child Is Gone", "Disco Floor" and fast paced tracks like "Give Me More" and "Xerces III". The collection provides the listener a wide variety from the progressive, soothing sounds of "Down My Road" to the hard bass line tempo of "Native To No Where".
BHTC Music expects to further promote House and Trance with their new release. The sounds of New York DJ/Producers Dave Perez and J.Ostia expose different styles that contribute to the music industry.
"Industrial Strength by BHTC is available at CDbaby for CD sales. Individual tracks are available worldwide through digital distribution at iTunes, Sony Connect, TuneTribe, Rhapsody and Zune. Also available is "Carry US Through" by Dave Perez.
For information regarding "Industrial Strength" and BHTC Music visit BHTCmusic.com or BHTC Myspace.
About BHTC Music:
The Brooklyn House and Trance Company, "BHTC Music", produces Trance and House Music that is vibrant and pulsating for the entertainment community.
###