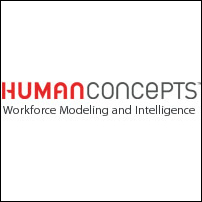 HumanConcepts is committed to making sure that our customers get maximum return on their SAP investment
Sausalito, Calif. (PRWEB) March 12, 2007
HumanConcepts, the developer of OrgPlus®, the leading software for intelligent organizational charting and workforce modeling, today announced a deeper level of product integration with SAP at the SAP HR Conference at the Sands Expo and Convention Center in Las Vegas, Nev. on March 12-13, 2007. OrgPlus Enterprise automates and centralizes organizational charting using HR data directly from SAP. Centralized organization charts allow for visual communication of an organization's hierarchy with HR metrics and provide a platform for capturing and actioning workforce change.
OrgPlus Enterprise inherits role definitions directly from SAP, ensuring that field level security in OrgPlus Enterprise matches the field level security permissions in SAP. The added integration capability guarantees consistent security for all end users and reduces ongoing maintenance costs. Additionally, OrgPlus Enterprise features enhanced HR-OCI support allowing organizational charts to be generated from hierarchies based on Position-to-Position relationships in addition to the existing support for OrgUnit to OrgUnit relationships.
"HumanConcepts is committed to making sure that our customers get maximum return on their SAP investment," said Steve Datnow, Vice President of Engineering at HumanConcepts. "OrgPlus gives our customers the added functionality they need to view and analyze their SAP HR data—and by allowing use of existing SAP role definitions, we have reduced the setup and maintenance costs associated with our system."
OrgPlus Enterprise contains the following deep integration features with SAP:
SAP HR-OCI Support (SAP-recommended method for creating organizational charts)
OrgPlus Enterprise queries SAP HR using the SAP HR Interface for Organization Charting (HR-OCI). The interface utilizes the functionality provided by the Object and Data Provider (OADP) and SAP Query to extract the desired data from SAP Organizational Management and SAP Personnel Administration.
OrgPlus Enterprise supports real-time authentication of user credentials directly against SAP making it a true Enterprise application.
SAP Enterprise Portal Integration
OrgPlus Enterprise supports single sign-on (SSO) from SAP Enterprise Portal and is integrated to provide context sensitive organizational charts.
OrgPlus Enterprise inherits role definitions directly from SAP ensuring that the field level security in OrgPlus Enterprise matches the field level security permissions in SAP, guaranteeing consistent security for all end users.
OrgPlus Enterprise allows for easy integration into SAP NetWeaver. A "Business Package" is available that allows OrgPlus Enterprise to be incorporated as an iView into the NetWeaver environment.
About OrgPlus
OrgPlus represents a new era in organizational charting technology. Integration directly with leading HR systems such as SAP provide HR professionals, IT managers and executives with easy and secure access to graphical views of employee information, organizational structures, and directories through a Web browser. OrgPlus enables employees to better understand company structure and strategy, facilitates productivity, and gives managers the tools and information they need to plan for change to swiftly react to shifting business conditions.
About HumanConcepts
HumanConcepts is the leading provider of workforce modeling and intelligence solutions. With its OrgPlus technology charting millions of employees for organizations worldwide, including 400 of the Fortune 500, HumanConcepts has defined best practices in organizational charting. OrgPlus uniquely integrates with HR systems to automatically create, update and distribute organizational charts for team collaboration, workforce planning and critical decision-making. OrgPlus integrates seamlessly with Microsoft Office applications.
HumanConcepts is based in California with offices in the United Kingdom and Germany and offers OrgPlus software and services worldwide. For more information visit http://www.humanconcepts.com.
Contact:
Ron Campbell
HumanConcepts
Direct: (415) 275-9182
ron.campbell @ humanconcepts.com
This press release was distributed through eMediawire by Human Resources Marketer (HR Marketer: http://www.HRmarketer.com) on behalf of the company listed above.
###