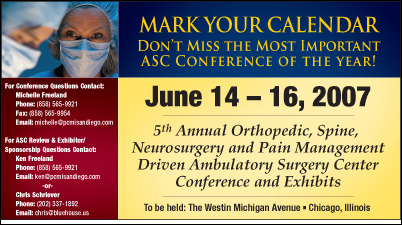 This conference provides a win-win for everyone involved
Chicago, IL (PRWEB) March 14, 2007
On June 14th-16th, the Fifth Annual Orthopedics, Spine, Neurosurgery and Pain Management Driven Ambulatory Surgery Center (ASC) Conference and Exhibits sponsored by ASC Communications Inc., will be held at the Westin Michigan Avenue in Chicago, IL. ASC industry leaders will have the opportunity to gain valuable insight into starting, running, improving and even selling their ASCs by attending information-packed seminars. They will also be able to meet one-on-one with the suppliers of equipment and services they need to run their centers profitably.
The conference provides networking opportunities each day with an opening network reception on Thursday, a breakfast, lunch and special evening networking reception in the exhibit hall on Friday, and a breakfast networking session on Saturday. Sponsorships for some of these events are still available.
"We love the exposure an event sponsorship at one of the ASC Communications conferences provides Surgery Consultants of America (SCA)," states Caryl Serbin, President of SCA, "The networking events allows us to really get to know the attendees and what their needs are."
Exhibitors will have ample opportunity to meet with the key decision makers and buyers of their products. "We are limiting the number of booths to allow each exhibitor more opportunity to meet with attendees," states Michelle Freeland, the Conference Director. A prospectus on exhibitor and sponsorship packages being offered can be found by visiting Conference Page at Becker's ASC.
"Of all the trade shows we exhibit in nationwide, this is one of the best due to the focused nature of the meeting and the fact that we are able to meet with many of the leaders of the ASC industry," says Steve Noxon, Vice President of Sales of Amkai, Inc. the developer of several software products specifically designed for ASCs. "We are able to show, in person, how features within our software have been designed to meet the specific needs of surgery centers that are predominantly Pain Management and Orthopedic specific in their procedures."
The conference seminars and breakout sessions are devoted to delivering worthwhile topics specific to Orthopedics, Spine, Neurosurgery and Pain. "Because this conference is so targeted, we have the ability to reach exactly our audience," says Matt Sweitzer, president of Alpine Surgical Equipment, Inc. a medical equipment company dedicated to serving the needs of the ASC industry.
"This conference provides a win-win for everyone involved," says Brett Gosney, President Elect of Physician Hospitals of America, a non-profit organization that provides support, advocacy and educational services to the physician owned hospital industry, "Administrators and physicians, who are ultimately responsible for the profitability of their centers, are being given the tools to become more successful; not only with the presentations and break-out sessions, but also by being introduced to different products and services that are available to help them."
For more information about sponsorship and exhibitor opportunities for this conference, visit Conference Page at Beckers ASCs or call Account Managers Ken Freeland at 858-565-9921 or Chris Schriever at 202-337-1892.
###