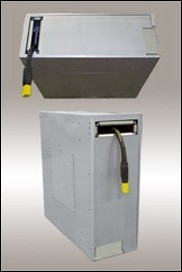 This system is a turn-key package. Just wire the 400 Hz cable and power supply, and operators can run it immediately
Omaha, NE (PRWEB) March 13, 2007
Conductix, Inc., a global supplier of motorized power supply cable reels for the GSE industry, has announced immediate release of a new motorized 400 Hz cable reel. The new reel is to be mounted on most common passenger loading bridge styles. The PLB400 is designed to prevent cable jams inside the reel, regardless of how ground support personnel handle the cable.
"With the continued growth of the aviation industry and its emphasis on efficient servicing of aircraft, having a reliable means to supply power to parked aircraft is a much higher priority now than in past years," said Mark Zuroske, Senior Market Manager at Conductix. "Our new reel addresses the industry's reliability and safety concerns in a number of ways. The system fully protects the valuable 400 Hz cable, whereas steel cables from traditional cable hoists can catch on aircraft doors and cause damage. Another safety advantage is that cables are easily stored and protected, rather than lying on the tarmac. This reduces risk to ground personnel and decreases obstructions for ramp vehicles."
PLB400 Features and Benefits
The PLB400 has been designed to occupy the minimum amount of space on or under the passenger loading bridge. The reel spool, drive motor, slip ring assembly, and control system are completely contained within the reel enclosure. The unit can be mounted either under the bridge horizontally or on the side of the bridge vertically. Precision-machined rollers and a special cable guiding device prevent the cable from jamming during pay-out and retraction.
The reel features a technologically advanced and highly reliable electronic control system, which allows the user to precisely define in/out reeling limits. If the line pull on the cable ever becomes excessive, for whatever reason, a fail-safe sensor system stops spool rotation before any damage can occur to the cable or reel. "This system is a turn-key package. Just wire the 400 Hz cable and power supply, and operators can run it immediately", said Ben Hiebenthal, Product Development Engineer at Conductix, "We have designed this cable reel to make it easy to install, easy to setup, and easy to operate. In fact, one of our original design requirements was to be able to replace the cable, or any other subassembly, as quickly as possible. If the cable ever does need to be replaced for some reason, it can be done in under two hours, start to finish; causing minimal disruption to gate operations."
Other Conductix Electrification Products
Conductix also designs and manufactures other products used for aviation maintenance facilities to include standard cable/hose reels, conductor bar, festoons, and offers pendants and radio remote controls. For more information on Conductix products and services, please visit: http://www.conductix.us.
For more information, press only:
Contact Laurie Valery, (402) 952-9354, lvalery (at) conductix.us
For more product information on the PLB 400 Cable Reel
Contact Mark Zuroske, (402) 952-9325, mzuroske (at) conductix.us
###