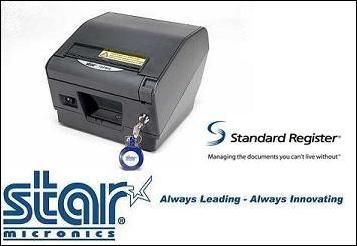 Star Micronics has always played an innovative role in the printer industry. Our relationship with Standard Register and our dedication to the prescription marketplace with our secured prescription printer is the most recent example of that role
Edison, NJ (PRWEB) March 14, 2007
Those fighting the war on drugs have enlisted the services of Standard Register and Star Micronics America for a new battle -- prescription fraud. A growing epidemic that costs the American healthcare system an estimated $5 billion annually, prescription fraud has drawn the attention of the healthcare industry, and led to an innovative, secure prescription solution by Standard Register incorporating Star's TSP800Rx locking printer that is a solid deterrent to prescription drug abuse.
One of the most common methods of prescription fraud occurs when prescription forms are stolen from busy exam rooms in both hospitals and medical practices. Grabbing prescription forms is akin to getting your hands on a pile of cash, as 25 prescriptions have an estimated street value of $8,000. People who nab prescriptions can forge doctor's signatures and order any drug they choose. If they're an addict, they can use the drugs themselves. However, some will forge a prescription for distribution. It's smart business considering a bottle of Vicodin can command $700 on the black market.
One effective way to deter fraud is electronic prescribing (e-prescribing), which uses a secure, automated data entry system to generate a prescription, rather than relying on pen and paper that are so easily accessible to thieves. Used in conjunction with Standard Register's Scrip Plus® secure prescription stock and Star's RX locking printer, this controlled process provides a triple deterrent against fraud.
Standard Register's proprietary Scrip Plus thermal paper rolls have multiple security features layered into the prescription stock to deter alteration and counterfeiting. Its color-shifting ink, changes color with the touch of a finger, confirming to the pharmacist that the prescription form is authentic. CopyBan Capture® foils duplication attempts by displaying the word "void" if scanned or copied. Likewise, a complementary chemical feature imprints the word "void" on any prescription that has been exposed to acetone or any other chemical agent. The prescriptions are also uniquely numbered and bar coded, and feature hard-to-copy watermarks. Finally, each roll has a warning band with a printed message that alerts pharmacy staff of security features on the prescription.
Finding a printer that was equally secure was the next order of business for Standard Register. That's where Star Micronics comes in, according to Jay Frerichs, senior product manager for Standard Register. "We were introduced to Star Micronics during a prescription fraud meeting held by New York State. After that meeting, we evaluated the TSP800Rx and we thought it was great. It's fast, quick, and small. Plus, it's a direct thermal printer, which makes it durable and less expensive to print a prescription compared to a laser printer."
"Star Micronics has always played an innovative role in the printer industry. Our relationship with Standard Register and our dedication to the prescription marketplace with our secured prescription printer is the most recent example of that role," said Michael Hanson, Vice President of Star Micronics America. "It is a truly innovative platform that brings a number of advantages to the increasing deployment of e-prescribing systems."
Star Micronics and Standard Register then worked together to make the Rx printer even better. The TSP800Rx was designed to incorporate a Kensington lock slot, to create the highest level of security available. The locking feature secures the prescription paper roll from being taken from the printer without authorization.
"It was remarkable how quickly Star Micronics turned the printer (with the locking feature) around," said Frerichs. "In my opinion, it's the only truly secure printer in America. You can only lock the drawer of a laser printer. This is especially important given the open environments in which the printer operates."
Those open environments will soon be closed to prescription fraud, at least if the Scrip Plus Secure Prescription Solution, complete with the Star Micronics TSP800Rx, is used on the war on drugs' new battlefield.
About Star Micronics America:
Star Micronics America, Inc. is a subsidiary of Star Micronics Company Ltd., a world-wide leading producer of POS printers, audio components, high-precision machine tools, and precision parts. For more information, contact Star Micronics America, Inc., at 800-782-7636 or visit http://www.starmicronics.com/Printer/PrinterDesc.aspx?PageId=1&PrinterId=36
Standard Register
Standard Register is a premier document services provider, trusted by companies to manage the critical documents they need to thrive in today's competitive climate. Relying on nearly 100 years of industry expertise, Lean Six Sigma methodologies and leading technologies, the company helps organizations increase efficiency, reduce costs, mitigate risks, grow revenue and meet the challenges of a changing business landscape. It offers document and label solutions, technology solutions, consulting and print supply chain services to help clients manage documents across their enterprise. More information is available at http://www.standardregister.com.
SOURCE: Star Micronics America
CONTACTS:
Regina Mazza
Marketing Coordinator
Star Micronics America, Inc.
800-782-7636
Christine Winters
Corporate Communications Manager - Healthcare Markets
Standard Register
937-221-1804
# # #