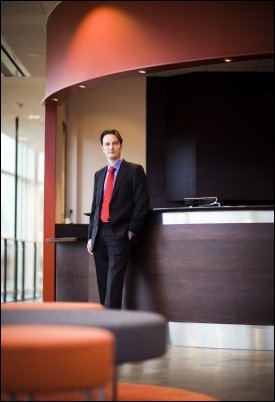 Every computer is my computer ™
Linkoping, Sweden (PRWEB) March 12, 2007
Northzone Ventures has invested 10 million US dollars in Xcerion AB first-round VC funding to launch its collaborative XML Internet OS. Xcerion aims to distribute the OS and accompanying applications free as a massive service over the Internet.
Existing shareholders and investors in Xcerion AB includes: Lou Perazzoli, one of the original architects of Microsoft Windows NT and former General Manager of the Microsoft Core OS group, John Connors former CFO of Microsoft, Terry Drayton founder and former CEO of HomeGrocer.com and David Löwenbrand founder of Kreatel.
The company has since its inception 2001 been in "stealth mode" and developed a revolutionary OS that changes how software is distributed, sold and developed. CEO, Daniel Arthursson says that the OS will enable the long tail business for software and provide an alternative for consumers and small businesses world-wide that are seeking a simpler, cheaper and more effective way of everyday computing. It will even make it possible to make money on software that previously was regarded as non-profitable due to associated development and distribution costs. Xcerions service enables an extremely low cost structure with high profit margins.
Xcerion especially hopes to give people that cannot afford to buy expensive, licensed software a viable alternative. New low-cost and thin computers may also be possible to produce running Xcerion Internet OS (XIOS) on top of a stripped down Linux.
During the next three years Xcerion expects to deliver hundreds of applications running on the OS – most of them for free. Mr. Arthursson says that the goal is not to reproduce all the functionality of current software – our aim is software for the masses and they often only need 40-50% of the functionality of today's software. The massive amount of applications that will be delivered is possible due to Xcerions unique technology platform and its underlying operating system (XIOS – Xcerion Internet OS) - a research and development project that has been going on for five years. The OS enables Xcerion and its partners to develop applications in XML that are visually orchestrated without any programming. This makes it possible for applications to be developed in weeks instead of years and become scaleable to millions of users.
One of the implications with Xcerions Internet service is that your desktop, software and documents will be available from any computer, anywhere – says CFO, Jonas Thornholm. Virtually every computer will become your personalized computer – "Every computer is my computer ™"
The secret is data centers that scales to millions of users and an OS with zero-footprint, zero installation that also runs on top of today's popular operating systems. The OS is delivered as a dynamic service over the Internet. This approach makes the cost for supplying software extremely low per user and also solves many problems like virus threats, backups and having to install upgrades and patches. It is already today possible to apply for a Beta account on Xcerions web site, xcerion.com. The official launch is estimated to be in the third quarter of 2007.
In conjunction with the investment, Jörgen Bladh, General Partner with Northzone Ventures, will join the board. "Xcerion is a truly disruptive company. If they are successful, Xcerion will not only unleash the next wave of Internet computing but also change the software industry forever. Xcerion will create an eco-system that is unraveled in terms of the extremely low cost structure, the speed to create new applications, and the superior user experience."
Software should be free – unless you charge for it! ™
For press inquiries, please contact
Xcerion, Daniel Arthursson and Jonas Thornholm, pr (at)xcerion.com
Northzone, Jörgen Bladh, bladh (at) northzone.com
Photos are available on: http://xcerion.com/Press/Press%20Kit.html
This press release is available as PDF on: http://xcerion.com/Press/Xcerion_2007-03-12.pdf
About Xcerion AB
Founded in 2001 by Daniel Arthursson, Xcerion AB (xcerion.com) provides a revolutionary Internet OS as a Web 2.0 service over the Internet. The service changes how software is distributed, sold and developed. The service includes a complete OS, productivity tools and applications needed for everyday computing. It scales for millions of users.
The core technology behind the Internet service is a new AJAX XML OS that enables Desktop Application Orchestration (DAO)TM – visual creation of software without programming.
Xcerion AB is based in Linkoping, Sweden with offices also in Stockholm, Sweden and Seattle, USA. The key management team includes, Daniel Arthursson CEO and Jonas Thornholm CFO.
About Northzone Ventures
Northzone Ventures has backed early stage Nordic technology winners since its inception in 1994. Northzone has nine General Partners based in Stockholm, Oslo and Copenhagen, and has through their five funds invested in close to 50 companies – they are currently active in 25 technology companies throughout Scandinavia. Northzone V was raised in April 2006 with 175 million Euro from top-tier European institutional investors.
Present and past portfolio companies include Funcom, Lastminute (acquired by Travelocity, Inc.), Nextgentel (acquired by TeliaSonera), Pricerunner (acquired by Valueclick, Inc.), Stepstone and Trolltech. For more information please visit http://www.northzone.com.
###