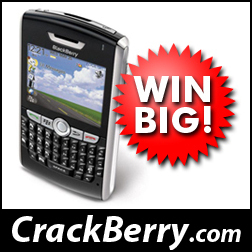 reach me at my CrackBerry.
Winnipeg, MB (PRWEB) March 13, 2007
CrackBerry.com, the "Number One Site for BlackBerry Users" is leading the way in helping people either control or indulge their BlackBerry addictions. Research In Motion's BlackBerry devices have qualities that are so addictive they are lovingly nicknamed "CrackBerries." The new website, launched in February 2007, has already attracted media attention and considerable positive response from the both the online and BlackBerry communities.
But addiction can have its benefits. CrackBerry.com is launching a new "Confess Your BlackBerry Addiction Giveaway," the winner of which has the opportunity to "Enter Rehab" and retreat to an exotic vacation spot where they'll agree to lock up their BlackBerry for the duration. Those who admit to their proclivities and register with the new site will be entered to win a 'Vacation From Their BlackBerries.' Registration is free and only takes a minute. If the winner can't or won't give up their device for a week (or doesn't think their BlackBerry use to be in need of a vacation), then they can also win up to $2,000 worth of BlackBerry accessories to further fuel their habit. There are also weekly early bird prizes given away by the Crack Team at CrackBerry.com.
For those who are not enough fortunate to win a trip to a BlackBerry-free resort, the website features a "Rehab" section, which offers users tips on how to gain power over their digital habits.
"We wanted to do something a little light-hearted, which could offer users help in controlling or indulging their habits," says CrackBerry.com CEO Kevin Michaluk. "The site features a 13-Step program to help you live a more stress-free life and put that BlackBerry away sometimes. Twelve steps wasn't enough. Over-users, co-workers and loved ones will appreciate the program too."
The "Rehab" section also features articles about the problems of becoming too reliant on the mobile devices and offers strategies for keeping your BlackBerry usage within reasonable limits.
The site provides information, tips and hints, professional tools, downloadable guides and software, games, an accessory store, and the latest news from the BlackBerry world. Registered members can also participate in community forums and even have the option to create their own free @crackberry.com e-mail address. Users can literally tell their co workers to "reach me at my CrackBerry."
CrackBerry.com is dedicated to becoming the premier source of all things BlackBerry. For more information visit http://crackberry.com or contact Kevin Michaluk at Kevin @ crackberry.com or by phone at 1.204.982.0011
###