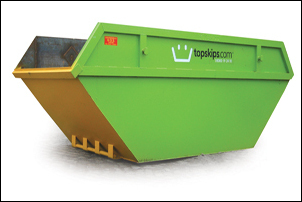 Have I Got News For You
Manchester, UK (PRWEB) March 15, 2007
Skip Hire industry leaders Topskips.com have created another world first by launching video demonstrations of their skips on a dedicated sister website Topskips Skip Hire Videos
As one of the largest skip hire companies providing waste management and recycling services across the UK and Ireland, this follows Topskips.com innovating the world of skip hire with the world's first fully online skip hire payment system, the world's first skip hire Live Chat service and _the world's first skip hire blog (where people can ask anything they want to know about skip hire).
Mark Attwood, Managing Director, said "We were faced with the fact that many of our customers have never hired a skip before, and found it very difficult to visualise the size of skip that would be right for the job in hand. We needed a solution that would educate the customers in a fast, simple and fun format, whilst also reducing the amount of time our call centre staff spent on the phone explaining skip sizes to people.
"Ultimately, Topskips TV has already increased the quality of our service even before a customer picks up the phone or places an online order, and reduced our costs which will be passed on as savings to future customers."
"It is very important to us that we are using every piece of technology available to us to improve the quality of our service whilst retaining the very important human and interactive nature of our business. Topskips TV helps us do this."
Topskips are famous for being online innovators. They launched the world's first online payment system for skip hire in 2003 from their headquarters in Manchester, England. Until this point, skip hire in the UK had been very much a cash industry.
The company also publishes a monthly magazine for the skip hire industry in the UK and Ireland called The Skip Magazine which was made infamous after appearing as a guest publication on the BBC's "Have I Got News For You" in 2006.
This magazine and the company's open and honest approach to the multi-billion pound skip hire industry has also led to Mark Attwood of Topskips.com being interviewed in the media on all matters related to skip hire. He appeared on 25 BBC Radio stations in one day last year to discuss the fact that over 50% of UK residents admitted to dumping rubbish in other people's skips - something that Mark strongly feels is theft.
Topskips.com provides thousands of trade and domestic customers with reliable and good value skip hire services across the UK and Ireland. Their clients include some of the giants of the construction industry as well as tens of thousands of domestic customers across the land.
###