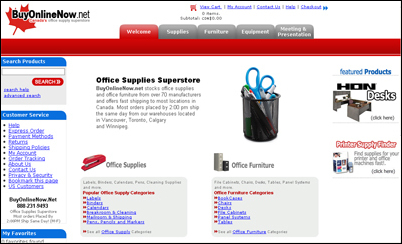 Rochester, MN (PRWEB) March 14, 2007
BuyOnlineNow.net, the newest member of the BuyOnlineNow family, is now open and shipping office supplies, and office furniture throughout Canada.
CEO and Founder Bob Herman, who has guided BuyOnlineNow.com to the Inc 500 list of fastest growing companies in America for two straight years, decided to expand his operations, and open an online store for Canadian customers.
Herman recently commented:
"During the 7 years BuyOnlineNow.com has been open, we learned that many office products can be difficult (if not impossible) to find in Canada. Shipping from our existing US suppliers was not a good solution due to the high costs and long transit times for shipments shipped from the USA to Canada. When the opportunity to partner with a Canada based distributor arose, providing us the ability to ship directly to Canadian customers from 4 warehouses located across Canada, we immediately began building our new web store servicing Canada; BuyOnlineNow.net."
BuyOnlineNow.net will build on the winning formula of extremely fast shipping, detailed product descriptions, and most importantly, excellent customer service. With over 12,000 products, including File Cabinets, Office Chairs , Binders, and Labels in four warehouses throughout Canada, BuyOnlineNow.net is able to provide most customers with their order within 1-3 business days.
BuyOnlineNow.net offers 24 hour shopping online, and delivers items right to your door, which provides the customer a convenience that can't be found anywhere else. The product information provided is exceptionally comprehensive, with highly detailed pictures, and specific descriptions of each item. Using state of the art search technology, customers are able to compare different products with the click of a mouse.
By providing the advantages of shopping from home or work, combined with extraordinary customer service, and an easy to navigate website, BuyOnlineNow.net hopes to revolutionize the way people shop for office supplies and furniture through all of Canada.
About BuyOnlineNow.net: Opened in February 2007, BuyOnlineNow.net is the newest and first international member of the BuyOnlineNow family. BuyOnlineNow.net stocks over 12,000 office products in 4 warehouses throughout Canada.
For more information visit our web site: http://www.buyonlinenow.net
###