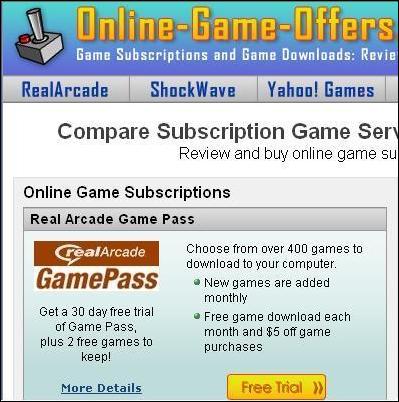 Austin, TX (PRWEB) March 14, 2007
Online-Game-Offers.com launched in September of 2006 as the definitive source to learn about, compare, and save on online game subscription services. Now, the site has responded to the requests of its visitors and added over 500 downloadable video games from Yahoo Game Downloads and Game Downloads from WildGames.com. Visitors can browse through the complete online game catalogs from these two vendors and can explore hundreds of games from each before making a purchase.
Online game downloads are becoming increasingly popular with frequent gamers. They save gamers a trip to the store and provide instant gratification - You can purchase, download and play an online game in minutes. "My main qualm with Online-Game-Offers.com," said site visitor Jacob Marshall, "was that they only offered game subscription services. I was more interested in purchasing the games and finding discounts, and now I can do that and check out the subscription services in one place!" Yahoo Games and WildGames.com both offer free trial versions of most of the games on their sites so that visitors can test out the games before purchasing them. Coupon codes, including a WildGames coupon code, and special savings discounts are frequently available at Online-Game-Offers.com so that visitors can save by visiting and browsing the online game offers before purchasing.
Purchasing online games is not for everyone, so Online-Game-Offers.com com continues to offer online game subscriptions to its visitors. Both Atom Shockwave and RealArcade GamePass are featured on the site. Real Arcade Game Pass allows new members to download 2 free games up-front, and one game per month thereafter for just $7.99 per month. This is a substantial savings off the cost of downloading online games (generally $15 - $20). Members also receive an additional $5 discount if they choose to purchase additional games each month from RealArcade.
Online-Game-Offers.com has also added a summary of Free Yahoo Fantasy Baseball. This service appeals to many online gamers - It allows them to follow the real MLB season and compete against their friends with fantasy teams that they create made of players from various real teams.
The extensive guide and reviews section of Online-Game-Offers.com contains a number of new articles and reviews about online game downloads for the reference of the site's visitors. Gamers can be sure that they have thoroughly researched their online game download or subscription purchase when they visit Online-Game-Offers.com first. Online-Game-Offers.com not provides the most complete online resource for finding, comparing, reviewing, and purchasing online games.
About Online-Game-Offers.com:
Online-Game-Offers.com was developed by a group of online game enthusiasts that got into a heated debate about which online game subscription service was the best. In an effort to settle the disagreement, they tried them all, and carefully detailed their experiences with each. They then expanded their research to include a catalog of all the online games for purchase from various online game download sites. Online-Game-Offers.com creates one, centralized location where visitors can view the best online game subscription services and online games, get full details about products, get the latest coupon codes and free trial offers, and read informative reviews and articles to help them select an online game or online game subscription service and effectively use it.
###