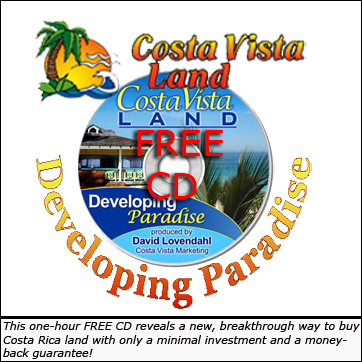 Paradise Brokers works with local laborers and attorneys, to ensure all paperwork and development are handled in a professional manner--and each parcel comes with a 100-percent money-back guarantee
Dominical, Costa Rica (PRWEB) March 15, 2007
Land speculators looking for hot property to purchase can now hit a tropical gold mine with no risk. The secrets of purchasing Costa Rica real estate are demystified in Paradise Brokers' new audio CD, produced by their marketing arm, Developing Paradise.
The 40-minute DVD interviews Nick Halverson, COO of Paradise Brokers, on all aspects of buying Costa Rica property. A long-time Costa Rican landowner, Halverson shares his expertise with interested investors looking for their own slice of paradise. Topics range from the initial cost and appreciation of Costa Rican land to the low crime rates in the country.
Although many people take a do-it-yourself approach to acquire Costa Rica information to evaluate and purchase a property, Halverson warns against it. The DVD points out the many advantages of using Paradie Brokers a full-service land acquisition company, to manage the land purchase. "Paradise Brokers works with local laborers and attorneys, to ensure all paperwork and development are handled in a professional manner--and each parcel comes with a 100-percent money-back guarantee," states Halverson.
"This isn't a company that was started by a person with excess money who suddenly decided to buy and sell land in Costa Rica," Halverson explains. "The partners running Paradise Brokers are well connected, so when they purchase land, they get great value, and they pass that value on to investors. The Paradise Brokers partners have seen the mistakes of other Costa Rica land sale companies and are committed to not making the same ones."
With properties in Costa Rica often doubling in value within months and available land running out, this CD is a tool designed to assist investors in navigating the purchase of land in the Costa Rican market. Interested persons can request a copy of the DVD and learn more about Costa Rica real estate opportunities by contacting Paradise Brokers at 1-877-CRLAND1 (275-2631).
About Paradise Brokers
Paradise Brokers (http://www.paradisebrokers.net) is 'developing paradise' in Costa Rica as a full service real estate investment, development and property management company. Whether you are interested in panoramic ocean views, waterfalls, golf course lots, or mountain and river views, Paradise Brokers has it all: financing available. Their four offices provide unparalleled service and accessibility and that's why COO Nick Halverson says, "We didn't create paradise, we make it accessible." Paradise Brokers' lucrative program has a 100% money back guarantee and they will arrange all your travel, lodging, and excursions. For a limited time, get a $1,500 reimbursement upon visiting your new property.
For more information call 1-877-CRLand1, (275-2631). Grab your FREE 40 minute DVD and the 'Blueprint to Costa Rica Riches' NOW at http://www.developingparadise.com.
###