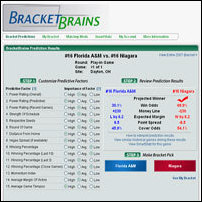 Palo Alto, Calif. (PRWEB) March 14, 2007
Kentucky vs. Villanova. Illinois vs. Virginia Tech. Indiana vs. Gonzaga. USC vs. Arkansas. The success of 2007 NCAA brackets across the country hinges on picking the right upsets in these closely matched first round games, and if history is any indicator, the upsets that will occur in the first round of the NCAA tournament will serve as the ultimate bracket busters for many March Madness office pool entrants.
In preparation for the most exciting upset weekend in college basketball, TeamRankings.com today announced selected results from first round NCAA matchup analysis from BracketBrains 2007, a web-based service that uses advanced statistical technology to help NCAA basketball fans make smarter March Madness picks. Among the highlights:
#8 Kentucky vs. #9 Villanova: Predictive factors indicate Kentucky has 55.9% odds to beat Villanova, although the game looks to be extremely close.
#5 Virginia Tech vs. #12 Illinois: Historical data portend that the Illini have a serious chance to pull off a big first round upset, with calculated 53.4% win odds over the higher-seeded Virginia Tech.
#2 Wisconsin vs. #15 Texas A&M Corpus Christi: For those who have the guts to pick a #15 seed to upset a #2, this game may be the best bet, with predictive factors suggesting that Wisconsin's odds of winning are only 90.2% (the worst NCAA first round win odds of any #2 seed).
#6 Duke vs. #11 Virginia Commonwealth: Despite Duke having a down year in 2007, 70.5% expected win odds indicate that Duke probably will not exit the NCAA tournament in the first round.
Especially in first round and second round tournament games that feature matchups between lesser-known teams, BracketBrains lets office pool competitors quickly analyze a team's statistical chances to win. Over the past week, tens of thousands of college basketball fans in search of sound insight into probable 2007 NCAA tournament upsets have visited the BracketBrains web site.
A free demonstration version of BracketBrains is now available to the public at http://www.bracketbrains.com.
About TeamRankings.com
TeamRankings.com was launched in 2000 by Mike Greenfield, a Stanford-trained mathematician and sports enthusiast. Today, sports fans around the world turn to TeamRankings.com for unique, data-driven content and services that help them analyze and understand the games they love. From power rankings and predictions to innovative match-up analysis tools such as BracketBrains, information from TeamRankings.com lets every fan get smart about the game. TeamRankings.com is based in Palo Alto, California.
###