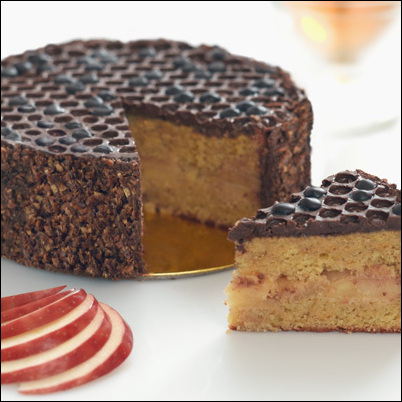 Macaroons] are making a comeback in America
Walpole, NH (PRWEB) March 15, 2007
Passover is right around the corner and for many people that means long held traditions of family gatherings for Seder with delicious meals, time around the table sharing stories, songs and prayers.
New Hampshire's L.A. Burdick Chocolate wishes its customers a Passover rich in tradition, happiness and peace. Especially for this season, they offer a Honeycomb Apple Passover Cake, Dipped Fruit and Luxembourgers. Although not kosher, these delicious desserts and confections are hand-made without flour or leavening.
Burdick's newest item for Passover is the flavorful flourless 6" Honeycomb Apple Cake which begins with a honey-apple compote slow baked with ground almonds resulting in a very moist cake. It is then topped with a chocolate hazelnut icing and sided with a caramelized nut croquante. You will love the honeycomb effect of this cake with various holes filled with liquid honey and dotted with dark chocolate. Perfect for gracing your holiday table.
The sweetness of Burdick's Chocolate-Dipped Fruit is the perfect ending to a filling Passover Seder feast. A full pound assortment offers a generous portion of succulent apricots, paper-thin pears, dried cranberries, crystallized orange peel, lemon peel and ginger. Approximately sixty pieces arrive ready for sharing with your guests.
"Macaroons are making a comeback in America," said Paula Burdick, co-owner of L.A. Burdick Chocolate of Walpole, NH, "and customers tell us that our Luxembourgers remind them of the best macaroons they once enjoyed in Paris." These hand-piped meringue treats are filled with flavored buttercreams - all natural flavorings of chocolate, coffee, almond, ginger, lavender and raspberry. An assortment of fifteen of these colorful pastels are presented in a unique polka-dotted box and are a much appreciated hostess gift.
These hand-made confections, priced from $19 to $34, may be ordered by visiting the website at http://www.burdickchocolate.com or calling 800-229-2419.
###