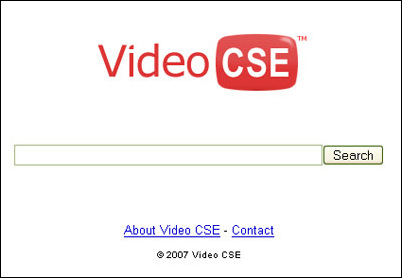 Video CSE produces pure online video search results from a vast number of sources including leading video sharing sites such as Google Video, YouTube, Yahoo! Video, MSN Soapbox, Metacafe, Dailymotion, Revver, IFILM, AtomFilms, Veoh and Grouper
(PRWEB) March 15, 2007
In the last two years, the Internet has seen such extreme technological advances in the speed with which large files can be transferred that it has become fast, convenient and common for Web surfers to watch videos online. The world of online video sharing made most popular by YouTube, the current leader in online video, continues to grow quickly as more site owners continue to make video clips a major element of their online content. This ongoing expansion has led to the development of Video CSE, a powerful, breakthrough Google-powered video search engine capable of searching the libraries of a growing list of popular online video sites.
Visitors to VideoCSE.com can search for video content just as they would using other leading video search engines, but the enormously increased number of searchable videos and sophisticated organization of results produces more relevant content with every search.
"Video CSE produces pure online video search results from a vast number of sources including leading video sharing sites such as Google Video, YouTube, Yahoo! Video, MSN Soapbox, Metacafe, Dailymotion, Revver, IFILM, AtomFilms, Veoh and Grouper," explains Video CSE site owner Anders Lindman.
Intelligent video search engines are an important part of what has become a worldwide phenomenon. While many Web users utilize video sharing sites to upload and watch clips of movies and television shows, others use the sites as open forums, posting self-directed videos of personal opinions, video diary entries, political speech and stand-up comedy. With millions of viewers who watch videos online at the leading sites each day, ordinary people uploading their own movies can, and have, become overnight celebrities.
A significant indication of the impact that online video sharing has made is TIME Magazine's decision to name YouTube as the Invention of the Year for 2006. The sheer numbers of Web users who watch videos online with YouTube alone are staggering, with Nielsen/NetRatings reporting that the site receives nearly 20 million unique users each month. The goal of Video CSE is to capture a large share of this traffic by becoming the preferred video search engine due to its ability to aggregate results from all of the Internet's shared video sources.
To utilize all of the leading video search engines through a single, user friendly site, please visit VideoCSE.com.
About Video CSE
Video CSE is the breakthrough Google-powered custom search engine designed to find shared online videos from a huge range of video sharing sites including Google Video, YouTube, Yahoo! Video and more. The company's search engine at VideoCSE.com was designed by NC Media, a company specializing in Internet application development.
###