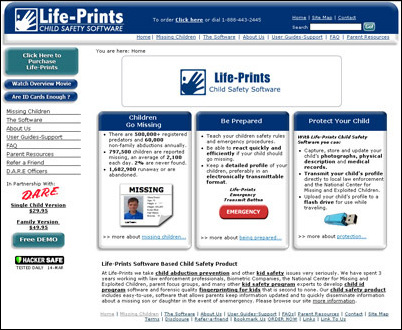 Life-Prints Child Safety Software addresses the issue of getting information to authorities fast when speed is critical
Charlotte, NC (PRWEB) March 15, 2007
Approximately 2,000 children are reported missing to the authorities every day. For the parents and guardians, it's a race against time to deliver the essential information - current photos, physical descriptions, medical conditions and key contact information - into the hands of law enforcement officers and search teams. The developers of the child safety kit software Life-Prints saw the necessity to help parents and authorities work together more effectively. They developed a user-friendly software system that is powered by the same advanced technology used by the FBI combined with information recommended by police missing persons units and the National Center for Missing and Exploited Children (NCMEC). After achieving early success with the first release, the developers have recently improved their software-based child safety program with a new release that features enhanced functionality.
The Life-Prints child safety kit software was designed to help parents organize and update high-definition photos of their children, physical descriptions, allergy and medical information, fingerprint files and contact lists. The electronic profile allows unlimited printing of child ID cards and featured an emergency button that would instantly transmit a child's profile to local law enforcement and the NCMEC.
"Life-Prints Child Safety Software addresses the issue of getting information to authorities fast when speed is critical," explains Charles Bowman, CEO, "Our new version enhances capabilities across the board, providing a user-friendly, secure system to help parents in the event of an emergency."
The new software release adds enhanced resources which can help parents quickly locate police departments, child advocacy agencies and registered child offenders in any region, as well as provide maps of those areas. The emergency button notification contacts have been expanded beyond local police and the NCMEC to include up to five additional user definable law enforcement, child advocacy and search and rescue agencies. The Life-Prints' medical information section has also been expanded to include immunization records, family history, insurance information and other key details.
Other updates include new capabilities for saving information on multiple children to a single password-protected flash drive for safety during travel, a wizard-mode user interface to help guide new users through the information entry process and the ability to print posters and flyers in addition to child ID cards. A fully functional demo version of the child safety kit software is available; which allows users to try the software for 30 days free of charge.
To learn more about this innovative and effective child safety program and to preview or purchase the child safety software Life-Prints, please visit us at Life-Prints.com.
About Life-Prints Child Safety Software
Providing child identification software designed specifically for instant use by law enforcement and child advocacy agencies, Life-Prints Child Safety Software is putting the most advanced and thoroughly researched technology to work for today's parents who are searching for an effective and affordable child safety program. The Life-Prints software system provides unlimited child ID cards, sophisticated and detailed information profiles and tools for instant police notification if a child goes missing.
###