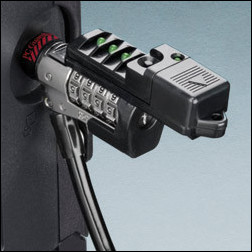 With our new Ezolution Master Coded Combination Locks, we've set a new standard for control, convenience, and security in a computer combination lock
San Rafael, CA (PRWEB) March 15, 2007
PC Guardian, a premier manufacturer of computer security products, announced today the launch of its exclusive Master Coded Combination Lock designed for the physical protection of computers and peripherals. The PC Guardian Ezolution™ Master Coded Combination Lock provides the same level of end-user and administrative control and flexibility in a combination lock as is found in a traditional Master Keyed solution.
The patent pending Ezolution Master Coded Combo Lock allows end users to set their own combination while giving authorized administrators the ability to unlock and reset the lock with the ComboGenie. The ComboGenie acts as an electronic "Master Key" and together with a unique Administrator Code, creates a proprietary two factor authentication process for secure combination recovery.
"With our new Ezolution Master Coded Combination Locks, we've set a new standard for control, convenience, and security in a computer combination lock" said Ann Laurenson, President and CEO of PC Guardian. "This system provides organizations with an additional alternative for managing combination locks by eliminating the need to track serial numbers and the risk of lost, forgotten or compromised combinations."
New Combo Lock Series and Upgraded Features
The new Master Coded Combination Lock, model # 2290-75, has an MSRP starting at $51.95. The ComboGenie's MSRP is $25.00. Both are available to ship immediately and are part of PC Guardian's new Ezolution™ Combo Lock Series. The Ezolution Preset and Resettable Combo Locks, model #'s 2260-70 and 2220-70, ship May 1st, with an MSRP starting at $39.95. All Ezolution Combination locks share the following PC Guardian exclusive features:
•SteelShield Reinforced Bumper - An exceptionally strong design to resist tampering.
•Easy to Use Dial Pad - Ergonomically designed dial pad with larger numbers and steady, audible step rotation for quick alignment.
•Rotating & Pivoting Lock Body - Created to withstand prying and twisting.
•Multiple Cable Strengths - Available in the industry standard Classic cable width, or an Ultra cable featuring 60% more braided steel strands for extra protection.
•Website Combination Recovery - Easy recovery of combinations. A free service for end-users to register their individual combinations and a new management system for administrators to track preset locks and combinations.
•Patented design - Provides unparalleled protection for equipment with a security slot.
About PC Guardian
PC Guardian is a leading designer and manufacturer of computer and data security solutions for corporations, resellers and distributors. Protecting corporate assets with patented, award winning products since 1984, PC Guardian successfully serves a wide range of businesses, including many Fortune 1,000 companies, by solving their security needs and ensuring compliance through innovative products, quality, integrity, and commitment to exceptional service and results. For more information, product availability and distribution, please visit our website at http://www.pcguardian.com
###