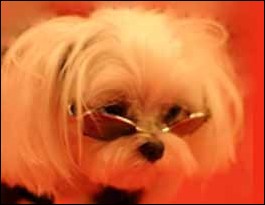 a canine Florence Nightingale with a Paris Hilton past.
San Diego, CA (PRWEB) March 15, 2007
Opinionated four-pound Maltese Chiclet T. Dog and her human co-author Jan Rasmusen have done it again! Not content with multiple national awards for their book, 'Scared Poopless,' they have taken their case for more informed canine care to YouTube with Chiclet's appropriately entitled video "Fame Is A Bitch!"
Chiclet's star turn became the #6 Top Favorite pet video--and the top dog video--its first week out. It's the tale of how a tiny dog survived the scandals of her party-girl past and went on to become an award-winning author, philanthropist and healer. Jan calls it the story of "a canine Florence Nightingale with a Paris Hilton past."
Starring Chiclet and her boyfriend J. Doggy Dog, the amusing four-minute video warns humans that they're wrecking their dogs' health with poor quality pet food, outdated vaccine protocols and dangerous pet medications. It's a compelling case for more informed health care, enlivened with off-the-wall humor, a heartwarming story line and some of the best dog photography around.
Celebrities like actress/activist Betty White and the canine star Benji have endorsed Chiclet's views, as have the Editor-in-Chief of the Journal of the American Holistic Veterinary Medical Association and Animal Wellness Magazine. Chiclet is a serious teacher, not just another pretty canine face.
Unfortunately, Chiclet's work and the accompanying fame have taken their toll on the tiny canine crusader. The endless benefit book signings with no Doggy Ladies Rooms in sight, not to mention the embarrassing exposure of her sordid past by muckraking pawparazzi, have made Chiclet a bit cynical, reports Jan. When asked to describe her life, Chiclet sums it up as "ruff!"
For both authors, fame is sometimes a bitch. But helping dogs live longer, healthier lives is wonderfully satisfying.
About Scared Poopless:
Scared Poopless: The Straight Scoop on Dog Care is a tail-waggingly fun book containing two years of exhaustive research spiced with anecdotes, trivia and 89 outrageous full-color photos. It won the Ben Franklin Award for the Best Health book of any kind, the USABookNews Award for the Best Animal/Pet Health Book, and is a finalist for the Dog Writer's Association Best Care and Health Book. Learn more about Chiclet http://www.FameIsABitch.com. The book is available wholesale and retail.
About the authors:
Chiclet and Canine Health and Safety Expert Jan Rasmusen have appeared on television numerous times. Jan is a frequent radio guest and Chiclet has been a guest supermodel for charity fashion shows and a judge for San Diego's Ugliest Dog Contest, a charitable event benefiting animals.
Media Inquiries:
Contact Jan for interviews, hi res photography, review copies and product information at 858-755-8820. Get further information and view TV clips at her on-line Media Room. Short-notice interviews are welcomed.
To embed the video on your website:
To post the YouTube video on your website, please e-mail us for the code. We'll send it right away.
Jan Rasmusen
858-755-8820
San Diego, CA
###