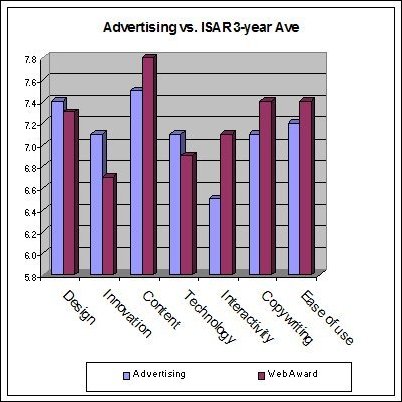 As the standard of excellence for websites continues to increase, consumers (and WebAward judges) are increasingly picky about what they consider to be an effective website
West Simsbury, CT (PRWEB) March 16, 2007
The Web Marketing Association, host of leading website awards competition WebAwards (http://www.07webaward.org), released the Internet Standards Assessment Report (ISAR) to help the advertising industry develop more effective and engaging websites.
"As the standard of excellence for websites continues to increase, consumers (and WebAward judges) are increasingly picky about what they consider to be an effective website," said William Rice, president of the Web Marketing Association, Inc. "Advertising websites generally fall into two camps. The first is 'look how creative we are' and the second is 'we're too busy working on client sites to spend time on our own'. In order to attract additional clients, advertising websites do need to be updated and a good example of the firm's abilities."
The WebAwards competition judges advertising websites on seven criteria that combined create award-winning websites:
Design
Innovation
Content
Technology
Interactivity
Copywriting
Ease of use
Advertising Websites have generally been in line with the overall ISAR Index.
They equaled or exceeded the index seven of the ten years analyzed, but slightly underperformed in 2006.
Advertising websites are typically a showcase of the firms work; therefore, they excel in design and innovation. They generally score well in terms of content as well.
According to the ISAR Study, the advertising industry needs to work on the interactivity of their websites in order to further engage the web visitor.
The 2006 WebAward for Best Advertising Web site went to SpotRunner for their website.
Other past winners include:
2005 Young & Rubicam brands/Wunderman, Detroit for Meet the Lucky Ones
2004 Hanon McKendry/The Brand Consultants for Lake Effect Website
2004 Oasis for Toyota Scion
2003 Google for Google AdWords
2002 Fusebox, Inc for JCDecaux Airport US
2001 Cole & Weber/Red Cell for Cole & Weber/Red Cell Corporate Site
2000 Bravo! Marketing, Inc for Bravo! Marketing, Inc
1999 UPSHOT for UPSHOT.NET
1998 BlairLake for Lee Pipes
1997 Ogilvy & Mather for Ogilvy & Mather BrandNet
Companies and organizations wishing to have their advertising Web site evaluated against the ISAR Index and be considered for a WebAward, which can help boost a Website's credibility and marketing efforts, can learn more at http://www.07webaward.org.
To request your copy of the 2007 WebAward ISAR report, please visit: http://www.webaward.org/isar_report.asp
The Internet Standards Assessment report and the 2007 WebAwards are sponsored by the following leading organiztions: Burst Media, PRWeb, Misukanis & Odden, Small Army, SimpleFeed, ExactTarget, ad:tech conferences, NewsUSA, eComXpo, MediaPost's OMMA conference, TopRank Online Marketing, Creative Chocolate Printing Company, OTOlabs, Internet World UK, Search Engine Strategies, Webmaster Radio, Rovion's InPerson and eMarketer.
2007 WebAward Call for Entries
The Web Marketing Association will soon be accepting entries into its 11th annual international WebAward Competition. The WebAwards is the standards-defining competition that sets industry benchmarks that the Internet Standards Assessment report is based upon. The advertising industry represents an important category in the WebAward competition, and the Web Marketing Association will again be honoring the Best Advertising Web site of 2007. The deadline for entry is May 31, 2007 and the WebAward Web site is located at http://www.07webaward.org.
About the WebAwards
Now in its 11th year, the annual international WebAwards competition sets the standard of excellence in 96 industry categories by evaluating Web sites and defining benchmarks based on the seven essential criteria of successful Web site development. The goal of the Web Marketing Association, sponsor of the WebAwards, is to provide a forum to recognize the people and organizations responsible for developing some of the most effective Web sites on the Internet today. Entrants benefit from a Web site assessment by a professional judging panel and the marketing opportunities presented to an award-winning Web site. For more information, visit http://www.07webaward.org.
###