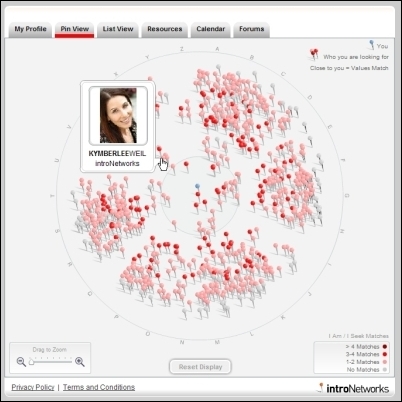 Artists and Inventors plot to save the world
Santa Barbara, CA (PRWEB) March 15, 2007
Today, introNetworks, the award-winning developer of professional online communities, announced that their latest release of the immensely popular introNetwork System™ was the platform for the recent TED Conference, for the fifth time. This release was customized in conjunction with TED's Curator, Chris Anderson, to match attendees based on their values, creating a rich context for their initial conversations.
"We are continuing to find ways to optimize the relevancy of our Visual Matching Engine™ to improve the efficiency of matching people and products," said Mark Sylvester, CEO and Co-Founder of introNetworks. "For five years we have worked closely with Chris to refine the system and provide insight to the attendees of TED. This year the system allowed for advanced searching and filtering, which gave attendees the tools to achieve truly relevant results, in seconds. I heard from many attendees that this year's system was the best yet and that it had become 'invaluable' to their TED Experience."
"Being able to help the TED Community make the most out of the four days together is a key benefit of the introNetwork system," said Kymberlee Weil, President and Co-Founder of introNetworks. "TED has seen the launch of many amazing technologies and we were honored to launch our first version of our social networking platform at TED2003 and have continued to innovate year after year as the needs of the community expand."
With more than 1000 attendees watching over 100 presentations and networking well into each night, the ability to send messages back and forth, arrange meetings, and find others quickly provided a 'required' tool according to many at the conference. The New York Times says that TED is where "Artists and Inventors plot to save the world" and the introNetworks system was a key part in helping them make their first connection.
About introNetworks, Inc.
introNetworks Inc, offers a versatile social networking platform for creating online communities that drive continual success for events, associations and corporations. The introNetworks technology platform unites partners, customers, employees and suppliers by empowering communities, which is extremely valuable for media, technology and knowledge management. Clients include: Adobe, Autodesk, Business Objects, CMP, Meredith Publishing, TED, The American Dental Association (ADA), The American Society for Training and Development. (ASTD), the American Society of Association Executives (ASAE and the Center), Young Presidents Organization and Ziff Davis.
The company is headquartered in Santa Barbara, California. For more information, please visit the introNetworks website at http://www.intronetworks.com or call (805) 576-1420.
About TED
TED is an invitation-only event where the world's leading thinkers and doers gather for inspiration and insight. TED stands for Technology, Entertainment, and Design -- three broad subject areas that are, collectively, shaping our future. In fact, the event is broader still, showcasing ideas that matter in any discipline. Attendees have called it "The ultimate brain spa" and "A four-day journey into the future." The audience -- CEOs, financiers, inventors, and intellectuals -- is almost as extraordinary as the speakers, who have included Bill Gates, Jane Goodall, Quincy Jones, Frank Gehry, Herbie Hancock and Bono.
TED is headquartered in New York City, New York. For more information, please visit the TED website at http://www.ted.com or call (212) 346-9333.
###