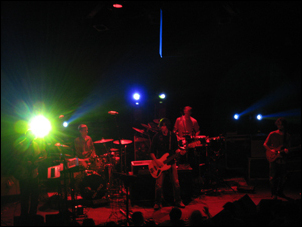 Lotus always puts on a great show and this concert is no exception
NEW YORK, NY (PRWEB) March 16, 2007
BreakThru Radio (BTR), the Internet's voice of the World's Best Independent Music, will air an exclusive performance from the band Lotus, which was recorded February 24th at the Bowery Ballroom in New York City. Beginning today, music lovers are encouraged to log onto http://www.breakthruradio.com , where they will be able to hear the recording of this incredible, sold-out set.
Hailing from Philadelphia, Pennsylvania, Lotus fuses electronic beats with a jam-band style, creating an innovative sound that is unmatched. BTR listeners will join DJ Jeff K as he hosts this amazing show found only on BTR.
"Lotus always puts on a great show and this concert is no exception," says DJ Jeff K. "I'm excited that I have the opportunity to share it with our listeners."
BTR will be airing the Lotus concert beginning today, Friday March 16. Lotus fans and BTR listeners can check out the first installment of the station's concert series by visiting http://www.breakthruradio.com .
About BreatThru Radio
BreakThru Radio (BTR) is the Internet's voice of the World's Best Independent Music, where DJs take music personally, ranging from the biggest death metal fans, to dance party mixes, and everything in between. "Music for music lovers," is BTR's motto, and one that their DJ's take very seriously. In a world where independent music is becoming more and more accessible, the need for select sources to filter the best is a necessity. Music fans across the globe have become frustrated and victimized by commercial radio.
Until now.
BTR offers listeners access to unknown artists throughout the world, with a daily audience that includes more than two dozen countries. The site has garnered over 80 million listeners in its first year with its unique on-demand musical programming and focus on the best new independent music worldwide. With the addition of top-notch editorial content, independent video coverage, and worldwide show calendars, BTR puts everything a music fan needs and wants - in one place.
Unlike other radio stations, BTR offers listeners on-demand programming. A first in internet radio, listeners can cater to their musical preferences, while still finding the best independent and unsigned artists across the world.
Using UpSNAP's cutting edge technology, BreakThru Radio makes its weekly and specialty shows more accessible for an on-the-go market of students and young professionals with exclusive access to its on-demand programming through their mobile phones. BreakThru Radio services are available through virtually all of the major carrier networks in the U.S. These include Nextel/Sprint, Cingular, Verizon, Alltel and T-Mobile.
BTR can be heard on http://www.breakthruradio.com and http://www.NYTrack.com, New York's only website dedicated to the tri-state high school track community, thus reaching over 5 million high school students.
###