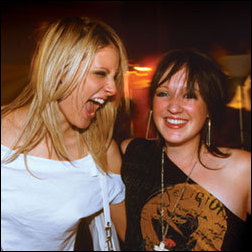 Glasgow, Scotland (PRWEB) March 20, 2007
Girlznight are on a mission to build a website that will help every girl plan their perfect night. But just what does makes the perfect Girls Night? Well every girl is unique and that's why they are now inviting members of the fairer sex across the UK to submit ideas for girls nights in, girls nights out, stories about their perfect night, or indeed horror stories of just the opposite.
The types of articles that Girlznight are looking for include: -
Ideas for a perfect girls night
Health & Beauty Tips
Cocktail recipes
Dodgy chat up lines
Party games
Just about anything goes, as long as it's original and helpful for planning a fab girls night. On the web site Girlznight have provided some ideas, sample girls night articles and an easy to use form with categories to submit articles at http://www.girlznight.co.uk/plan/submit.html
In return, Girlznight will give full accreditation for all articles with copyright retained by the author and a link back to their home page where available (MySpace, Bebo etc), as well as offering exclusive discounts on their range of hair care and professional beauty products, including GHD, L'Oreal, Wella and Fudge. Members will also be invited to rate new submissions, and there will be regular prizes for the top rated articles, including free hair cuts at top salons across the UK.
Articles can be submitted online at http://www.girlznight.co.uk or alternatively by post to: -
Girlznight
Thin Denim Limited
9 Newton Place
Glasgow
G3 7PR
Salons interested in partnering with Girlznight should contact Girlznight.
For more information on Girlznight contact: -
David McSweeney
Girlznight
Thin Denim Limited
9 Newton Place
Glasgow
G3 7PR
t: 0141 332 8142
###