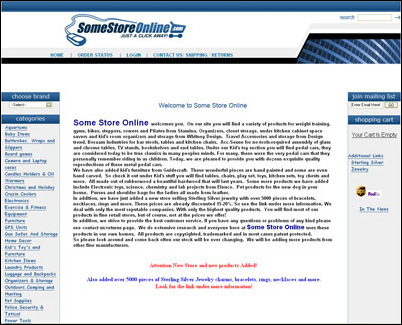 Think left and think right and think low and think high. Oh, the thinks you can think up if only you try!
Noblesville, IN (PRWEB) March 19, 2007
In the spirit of the famous Dr. Seuss quote, "Think left and think right and think low and think high. Oh, the thinks you can think up if only you try!" SomeStoreOnline.com has expanded its imagination-provoking line of toys and furniture for kids to include the respected manufacturers Guidecraft and Level of Discovery.
A trusted name in children's furniture and toys industry for over 40 years, Guidecraft has received rewards and accolades from parents and parenting professionals alike. Their Guidecraft Airplane Rocker and Retro Rocker Train both earned Best Picks from Child Magazine. The Retro Rocking Motorcycle by Guidecraft is another favorite amongst parents looking for high-quality, durable, and creative furniture for their kids. The Guidecraft storage line is extensive--from classic spindle or treasure toy chests to a playful School Bus, Train, or Guidecraft Fire Truck Toy Box, parents are bound to find the right fit for their chosen decoration theme. Or for baseball enthusiasts, team furniture is also available.
SomeStoreOnline.com has also added the quality line of Guidecraft toys to its inventory. Now, parents can give their little builder another Guidecraft Best Pick by Child Magazine, the Cito Crane, and the entire line of Cito construction toys. Children's play tables can serve as imagination stations with building block sets or toy grocery items.
In addition to children's play tables, toys, rockers, and toy chests, Guidecraft also makes innovative dress up and play sets, art tables, desks, chairs, and more. Bruce Turner, CFO of SomeStoreOnline.com, points out, "Many of the Guidecraft toys and products are made from rubberwood that would otherwise be burned and wasted. This environmental awareness and responsibility is yet another reason that Guidecraft is trusted and respected industry-wide, which is why we have added their products to our store."
Level of Discovery products have also been added--colorful, themed children's play tables, artist equipment, toy chests, rockers, and more. "Since we have added so many new toys and furniture for kids, we decided to make it easier on parents and offer them the option of browsing our kids' play furniture by themed collections. We have already grouped similar items together in a category, which will save a parent time when shopping for their child's room décor--whether it's Princess, Circus, Safari, Tea Party, or any other of our 13 themes," Turner highlights.
For more information on the Retro Rocking Motorcycle by Guidecraft or other kids' room furniture and toys, please visit SomeStoreOnline.com.
About SomeStoreOnline.com
Offering the highest quality products to its customers, SomeStoreOnline.com prides itself on their user-friendly site and comprehensive inventory. All offerings are highly researched and usually also owned by SomeStoreOnline.com's own employees.
###