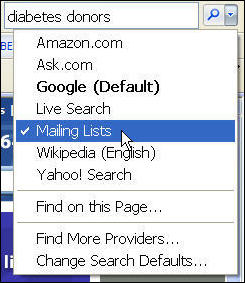 Finding the best mailing lists is next to impossible without the right tools
Hanover, NH (PRWEB) March 19, 2007
NextMark, a leading provider of tools and resources to buy mailing lists, sell mailing lists, and learn about mailing lists, today announced two new mailing list search plugins for Firefox and Internet Explorer users. These tools enable direct marketing professionals to search for mailing lists directly from their web browser frame.
"Finding the best mailing lists is next to impossible without the right tools," said Joseph Pych, President of NextMark. "These new search plugins take advantage of recent advancements of Internet Explorer and Firefox to give you instant access to virtually every mailing list on the market. All you have to do is enter your keywords in the search box of your browser window to find all the mailing lists that meet your criteria. Another click gives you expert information on each list. It's so easy to use and you can't beat the low, low price of free."
NextMark's mailing list search plugins provide access to information on more than 70,000 postal lists, email lists, telemarketing lists, and insert media programs. The tools come in two varieties:
(1) Internet Explorer and other browsers supporting the OpenSearch plugin file format
(2) Firefox and other browsers supporting Sherlock plugin file format
NextMark's new search plugins complement its free mailing lists search tool, which was first introduced in December 2005. The search plugins are available for instant download on NextMark's website (http://www.NextMark.com). No registration is required.
About NextMark, Inc.
NextMark provides tools and resources that help organizations to buy mailing lists, sell mailing lists, and learn about mailing lists. Its solutions have been proven through more than 2,500,000 mailing list searches and 50,000 direct marketing campaigns for thousands of catalog merchants, retailers, fundraisers, politicians, banks, telcos, entertainers, broadcasters, publishers, and other organizations that reach their market directly. NextMark is a privately held corporation based in Hanover, New Hampshire and on the web at http://www.NextMark.com.
###