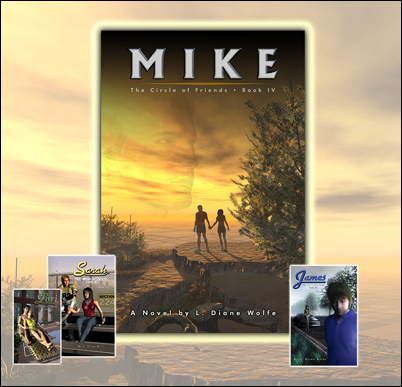 When the dream's big enough, the facts don't count!
Goldsboro, NC (PRWEB) March 29, 2007
Mike Taylor is the epitome of stability. His family is proud of his academic and athletic achievements at Georgia Tech, and despite the temptations of college life, he has maintained his moral standards. Yet beneath the peaceful surface, Mike is consumed with guilt, fearing condemnation and rejection. A former girlfriend's abortion and the intense love he feels for his roommate's wife constantly remind Mike of his failures. Unable to forget and full of shame, he refuses to forgive himself. When Danielle enters his life, he realizes he can no longer hide the past. Will she be able to reach him or is Mike past the point of redemption?
Mike: The Circle of Friends, Book IV follows one young man's journey to forgiveness. Meant to inspire as well as entertain, Wolfe's books have been described as "encouragement personified". Despite the current salacious trend in young adult/adult titles, The Circle of Friends feature positive, moral tales. The author's Southern-based series focuses on the pursuit of dreams and overcoming of obstacles. The stories intertwine as the characters learn that with belief and encouragement, they can achieve anything. Book I, Lori, followed a swimmer with Olympic dreams; Book II, Sarah, focused on a couple searching for trust; and Book III, James, chronicled an abuse survivor. One more will follow, Heather.
In the top 1% at her publishing company, Wolfe averages over eighty appearances and interviews each year. In addition to physical book signings and speaking engagements, the author is currently promoting her series through a virtual online tour. Wolfe maintains a website & blog for her series and contributes articles for numerous other sites. She conducts seminars on publishing & goal setting and manages an online writer's group. Dubbed "Spunk on a Stick", the author's goal is to give others hope they can accomplish anything in life. "When the dream's big enough, the facts don't count!"
Lori, Sarah, James, and Mike are published by AuthorHouse. For review copies, contact the Promotional Services Dept. at 1-800-839-8640 ext.5244 or by Fax 1-812-961-3113. For press kit, contact the author. http://www.thecircleoffriends.net.
###