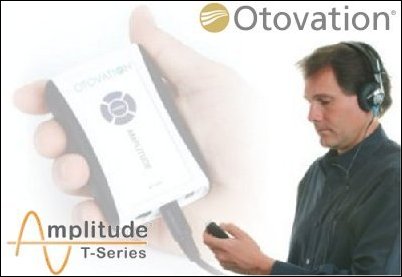 King of Prussia, PA (PRWEB) March 19, 2007
OTOVATION, a leading provider of advanced and highly portable hearing diagnostic products is pleased to announce that the company has been granted ISO 13485:2003 certification of its quality system, and the ability to CE mark its products. Concurrently, the company announces the release and availability of its Amplitude T-Series audiometer in the U.S. and European markets.
ISO 13485:2003 is the internationally recognized standard for the development, production and servicing of medical products. The Company's Amplitude T-Series audiometer is the first of its products to be offered under ISO 13485 certification, and additional certification demonstrating conformance to the Medical Device Directive 93/42/EEC, allowing the product to be CE marked.
Dave Davis, President and CEO of OTOVATION commented, "We are pleased and proud to have completed and attained ISO 13485 certification and the ability to offer our Amplitude T-Series and future products in countries requiring the CE medical device mark. This is a key step in our corporate development, reinforcing our commitment to product quality and customer satisfaction while providing a strong foundation for our expansion as a global provider of hearing diagnostic products. I am proud of the organization and what we have achieved in reaching this goal, and look forward to the introduction of additional products that embody our innovative thinking and provide significant value for our customers."
The Amplitude T-Series is a wireless, ultra-portable handheld audiometer that connects to a Windows PC via Bluetooth communications. The T-Series PC software provides easy to use and powerful manual and automated methods for both air and bone conduction testing. The T-Series' patent pending design incorporates the audiometer circuitry within the handheld patient response switch to create the most portable solution available for screening audiometry.
Effective immediately, the Amplitude T-Series wireless audiometer models T4 (air conduction) and T3 (air and bone conduction) are released and now available for purchase through the company's distribution partners. For more information about the Amplitude T-Series, please visit our website at http://www.otovation.com.
OTOVATION is a developer and marketer of highly portable hearing diagnostic systems for hearing care professionals. For details, contact Mark Exley, VP of Sales and Business Development toll-free at 1-866-otovation (686-8284).
###