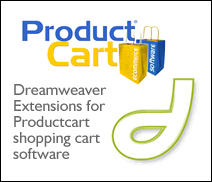 Mission Viejo, CA (PRWEB) March 20, 2007
Early Impact, an e-commerce software development company, announced today the release of a new Adobe Dreamweaver® Extension for its ProductCart version 3 shopping cart software. The Extension -- called "ProductCart Suite" -- allows users of Dreamweaver to more easily integrate any Web page with their ProductCart-powered e-commerce store.
The new "ProductCart Suite" Extension for Dreamweaver provides three useful set of features to users of Early Impact's popular shopping cart software:
(1) Link any page (static or dynamic) to the shopping cart (e.g. "Buy Now" button or "View New Arrivals" text link)
(2) Add shopping cart related "code snippets" to a Web page (e.g. shopping cart summary, search box, login form, etc.)
(3) Quickly "apply" that Web page to the shopping cart to make your storefront look exactly the way you want
The first set of features consists of a user-friendly interface that allows a Dreamweaver user to drop onto any page a text or image link to a shopping cart page. For example, a user may choose to add a link to specials, new arrivals, best sellers, advanced search, etc. Without having to look up exactly what those pages are called within the ProductCart-powered storefront, a correct image or text link to any of those pages is inserted onto the page with one click.
The second set of features refers to several interface elements that can be added to what will become the graphical interface of the ProductCart-powered storefront. For example, you may want a small shopping cart summary to appear on any storefront page when something has been added to the shopping cart. Or you may want a login form to be added to the left or right side of your Web site design. The ProductCart Suite extension adds the code to the page for you, so you don't have to worry about what the code should look like.
ProductCart can be easily integrated with virtually any Web site design, ensuring that the "storefront" portion of the Web site blends seamlessly with the rest of the pages. This is accomplished by "including" two interface files when any storefront page is generated. The ProductCart Suite extension allows users to create those files from any page with one click.
The third set of features consists of a new command in Dreamweaver that is used to create two files used by ProductCart to build the graphical interface of the storefront. This means that Dreamweaver users can create a Web page and -- with one click -- apply that look and feel to their ProductCart-powered storefronts.
The new Dreamweaver Extension is available free of charge to all ProductCart users. ProductCart is available from Early Impact and its resellers starting at $695 per storefront. Web designers and other resellers enjoy discounts, sales leads, and priority technical support on all Early Impact shopping cart software.
More information on the ProductCart Suite Dreamweaver Extension
SOURCE:
Early Impact, LLC
Contact: Massimo Arrigoni
(800) 804-1680
Read Massimo's blog on small business ecommerce
# # #