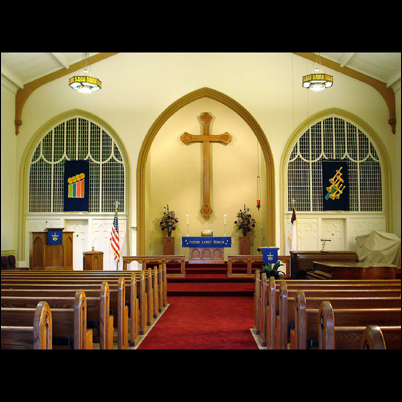 If we'd hired a regular carpenter, the job would have taken a lot longer.
Waco, TX (PRWEB) March 20, 2007
When it comes to working with contractors, no one likes surprises. Such is especially the case when unexpected problems arise during the building or refurbishing of the seats and other fixtures within the structure, and the contractor approaches church management to dig deeper into their pockets to cover mistakes and oversights. Forgiveness aside, the initial selection of an experienced church furniture manufacturer can go a long way toward saving money up-front and avoiding cost overruns in the construction and placement of church pews.
The installation of church pew seating, a pulpit, communion tables and the like should be a simple and fast process, but seldom is unless the church furniture manufacturer is qualified to foresee and prevent some problems, and work around the rest.
"You need someone you can go to who has experience and knows what they're doing," says Building Finance Chairman Larry Linman of the American Lutheran Church in Bourbonnais, Illinois, who recently helped oversee the construction of his church's new building. "Our contractor had worked with Imperial Woodworks before and recommended them, which went a long way."
Imperial Woodworks, Inc. of Waco, Texas--a specialist in the manufacture and installation of church pews for 46 years--becomes involved early in the building process. As most architectural firms rarely build churches, Imperial averts problems in the design phase by lending its expertise to architects to assist them in church pew and pulpit layout. For instance, they may point out and prevent the installation of a row of pews across a break in the incline of the church floor.
Of even greater importance in avoiding expensive "rebuilds" is building code compliance. A manufacturer that specializes in church pews is adept at helping architects and builders meet these codes. Dealing up-front with issues such as risers, miters, floor pitch, and row layout (distance between pews) helps speed the approval process and avoid costly delays.
Experience in the building and installing of church pews also accounts for lowered building costs in that the congregation isn't paying for "on the job training" of sub-contractors who have never built church furniture before.
"We ordered the pews, they gave us a timetable, they delivered according to the timetable, we did not have to wait," says Linman in referencing Imperial Woodworks. "If we'd hired a regular carpenter, the job would have taken a lot longer."
To obtain further value for their dollar, church building committees should also evaluate the durability and construction of the furniture itself. Significant money can be saved by avoiding the use of solid wood, which tends to crack, split and warp from variations in heat, cold and humidity. Whereas, a church pew that offers modern combinations of plywood, MDF (medium-density fiberboard) and hardwood veneers can showcase the beauty of hardwood with far better long-term stability. Hardwood warranties usually extend to one year, but veneered plywood or MDF can be warranted for 25 years due to its superior structural integrity.
In seeking to stretch construction funds the furthest, it behooves any church building committee to carefully evaluate the credentials, experience and range of offerings by manufacturers of church pews.
Imperial Woodworks, Inc.
John Hancock
http://www.imperialww.com
Phone: (800) 234-6624
Fax: (254) 741-0736
###