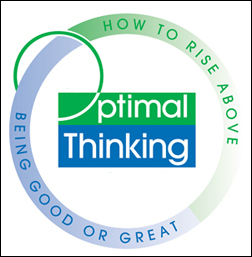 Australia's most successful woman
Los Angeles, CA (PRWEB) March 20, 2007
With more than 1.5 million DVD's sold and over 1.2 million copies of "The Secret" in print (authored by former Australian television producer Rhonda Byrne), the "Just be positive, it will all work out fine" motto is back in the limelight. However Rosalene Glickman, Ph.D., repeatedly honored by the media as "Australia's most successful woman", is cautioning followers against potentially disastrous consequences.
According to Glickman, international best-selling author of Optimal Thinking: How to Be Your Best Self (Wiley, 7th printing and in 15 languages) whose clients include the U.S. Army, BP, Johnson & Johnson and the Internal Revenue Service: "After eighteen years of research, I concluded that positive thinking is dangerous and often no more than wishful thinking. With more than 50 percent of marriages ending in divorce, and real life tragedies such as space shuttle Columbia, hurricane Katrina, and the Iraq war, we can no longer deny that when the cost of failure is high, optimism can be catastrophic."
A former Physics teacher who lives in Los Angeles, Glickman tells us: "'The Secret' is a freshly packaged version of the 'Law of Attraction', a well-known metaphysical principle that states that you get what you think about, and your thoughts determine your destiny. During the DVD, we are told that if we ignore negativity and substitute appreciation and wishful thinking, our problems will fade away and we will get everything we want. But applying paint over rust, doesn't remove the rust."
Glickman explains: "Unlike this naïve, unrealistic optimism, Optimal Thinking is optimal realism. Optimal Thinkers accept what we can't control (like the weather, interest rates, and others' choices), and maximize what we can control to optimize the probability of success. When the stakes are high, we construct optimal contingency plans to minimize negative consequences."
Glickman describes how Optimal Thinking resolves five shortcomings of positive thinking, and how to use Optimal Thinking consistently to achieve the best possible results in her new Optimal Thinking audio-CD program titled Optimal Thinking: Nine Optimal Days Toward Permanent Results (available in all Barnes & Noble stores starting April 9th). This practical four audio-CD Optimal Thinking program includes two CDs from the first nine days of the 100-Day Optimal Thinking Audio-CD Program for Permanent Results.
Author
Rosalene Glickman, Ph.D is the international best-selling author of Optimal Thinking: How to Be Your Best Self. She is a management optimization consultant who conducts seminars regularly and addresses large audiences throughout the world. Born in Australia, Glickman lives in Los Angeles. As a result of Optimal Thinking, Glickman was nominated for Australia's highest award "The Order of Australia" and received the "Woman of the Year" award for National Business Women's Week in Hollywood.
OPTIMAL THINKING® is a registered trademark of The World Academy of Personal Development Inc.
Dr. Glickman is available for media interviews.
For more information, visit http://www.optimalthinking.com/WhatisOptimalThinking.html, http://www.optimalthinking.com/Abovepositivethinking.html and http://www.optimalthinking.com/Audio.html.
About the Audiobook:
Title: Optimal Thinking: Nine Optimal Days Toward Permanent Results
Author: Rosalene Glickman , Ph. D.
Format: 4 CD / 4 hours
Price: $29.98 (US) / $37.98(CAN)
ISBN: 1-59659-088-2
Available: April 2007
Published by Gildan Media Corp. This audio title will be available at all fine book retailers, on-line and as a download at iTunes and audible.com
Your Coach in a Box is a line of personal development audiobooks from Gildan Audio that bring bestselling authors and lecturers directly to you, at the best prices.
Gildan Audio is a division of Gildan Media Corporation, a multimedia publisher of audiobooks and books. Gildan Audio titles (including Quantum NLP, Step Up to Success and Living an Empowered Life), are distributed to the trade by Hachette Book Group USA. More about Gildan Media can be found at http://www.GildanMedia.com.
# # #