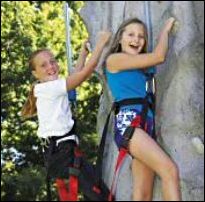 Sacramento, CA (PRWEB) March 20, 2007
Extreme Engineering, a climbing walls, mobile climbing walls and adventure products manufacturer, will be providing their Spider Zone at this year's Nickelodeon Kids Choice Awards taking place in Los Angeles, CA on Saturday, March 31st.
Extreme Engineering's Spider Zone is their own patented design which allows children to climb or crawl up and down through each of the 5 interwoven, colorful, highest-quality rubber layers. The Spider Zone allows children to explore and have fun in a safe and exhilarating environment. Children will enjoy the adventure of reaching to the top and want to test their strength and abilities. Up to 300 children per hour can experience the Spider Zone at one time.
Extreme Engineering's Spider Zone only requires one operator and can switch users easily and without a hassle because safety gear is not necessary. The Spider Zone is fast and easy to set up, no training is necessary, and maintenance costs are very low. The Spider Zone is available in various configurations and versions. It even provides an area where large banners may be hung to advertise the event or cause. The Spider Zone is perfect for any children's event including parks, state fairs, festivals, aquariums, malls, camps, water parks, zoos, and family entertainment centers and theme parks.
Extreme Engineering has over eleven years of experience in manufacturing the highest quality of mobile climbing walls, Rock Climbing Walls, jumper systems, auto-belays, combo units, climbing harnesses, and other exciting adventure products. Their official website provides pictures and further detail of the different variations of each of these products.
Extreme Engineering designs its products to be fun, safe and easy to operate, which is why each product is designed and tested by their full time stuff of qualified engineers. Extreme Engineering has been globally recognized as a leader in the industry, manufacturing the first ever mobile climbing wall. It has also been recognized as the largest manufacturer world-wide of climbing walls and adventure products.
To book or find out more about the Spider Zone, Mobile Climbing Walls, Rock Climbing Walls, or other adventure products, contact Extreme Engineering at 916.663.1560 or visit the official website at http://www.ExtremeEngineering.com. You can also submit your queries on their "Contact Us" page.
###