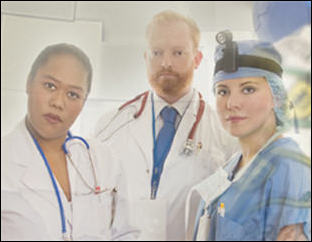 Our research shows how important geography can be as an influencing factor
Charlotte, NC (PRWEB) March 20, 2007 -—
As health organizations compete to attract and extend referring physician networks, new research can provide the critical competitive edge. On March 22 at 1:00 EST, opinion research firm Morehead will offer a one-hour webcast: Location Matters: Geography's Role in Strengthening Referring Physician Relations.
The webcast will reveal how physician liaison teams can maximize their organization's effectiveness by understanding physicians' geographic-based needs. Morehead's Vice President of Research & Development, David Rowlee, Ph.D., will present research revealing that the geographic location of targeted physicians is a determining factor in their satisfaction and loyalty with an organization. Liaison teams can use this research to rework their marketing messages as they build their networks of referring physicians.
"Our research shows how important geography can be as an influencing factor," said Rowlee. "Compared to physicians located near the hospital, physicians located farther away look at different factors as they consider referring to an organization." With a background of extensive research across healthcare organizations, Rowlee will use an analysis of The Children's Hospital in Denver, Colorado, to illustrate the empirical drivers of physician satisfaction, and the impact of geography -— the distance between the referring physician and the hospital -— on those drivers.
Rowlee brings to the webcast a decade of experience in survey research, behavioral modeling, social network analysis, and statistics.
The free webcast will help attendees effectively prioritize information and target key messages to referring physicians, based on their location. To sign up for the webcast, go to http://moreheadassociates.com/events/contents_event2.htm.
About Morehead
Morehead uses sound science, cool technology and smart processes to conduct opinion surveys that enable clients to enhance physician affiliation, employee commitment, leadership practices, and organizational quality. Morehead's clients include healthcare providers, financial institutions, government agencies, universities, service providers and manufacturers. For more information, visit http://www.moreheadassociates.com.
Media Contact:
Ronald J. Bowker
704.926.5221
rbowker(at)moreheadassociates.com
This press release was distributed through eMediawire by Human Resources Marketer (HR Marketer: http://www.HRmarketer.com) on behalf of the company listed above.
###