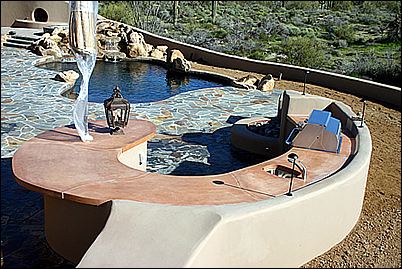 We've come a long way from the charcoal grill by including gas ranges, sinks, faucets and countertop prep areas along with pizza ovens, fireplaces and even concrete seating
Yucaipa, CA (PRWEB) March 22, 2007
According to The Concrete Network, the largest and most comprehensive source for concrete information online, outdoor living rooms are quickly becoming one of the most popular amenities featured in today's back yard. As temperatures rise around the country, Americans are taking inside entertaining outdoors, and are using concrete as their medium for creating beautiful barbeques, custom countertops, elaborative pizza ovens, and decorative concrete patios.
Because of the versatility and durability of concrete, many homeowners are choosing concrete for a variety of applications in their outdoor rooms, especially for their outdoor kitchen space. Through methods of stamping or staining, there are hundreds of color choices, patterns and designs that can be used to create any shape you can imagine.
"We've come a long way from the charcoal grill by including gas ranges, sinks, faucets and countertop prep areas along with pizza ovens, fireplaces and even concrete seating," said Jim Peterson, CEO of The Concrete Network. "Long gone are the days of drab, grey concrete."
The Concrete Network offers a few key factors to consider when designing an outdoor room, including selecting kitchen materials, creating the dining area, furnishing the outdoor room, and incorporating an outdoor fireplace. One key feature regarding concrete is to remember is that it has the ability to handle a large range of temperatures - it will stay the same through the dead of winter to the height of summer.
Visit the site's outdoor living photo gallery for a multitude of design ideas and examples of furnished outdoor rooms, pizza ovens, concrete countertops, concrete fireplaces, and more.
Established in 1999, The Concrete Network's purpose is to educate consumers, builders, and contractors on popular decorative techniques and applications including stamped concrete, stained concrete floors, concrete countertops, polished concrete, and much more. Over 872,000 visitors researched The Concrete Network Web site in June, 2006.
The site excels at connecting buyers with local contractors in their area through its Find-A-Contractor service. The service provides visitors with a list of decorative concrete contractors throughout the U.S. and Canada, and is fully searchable by 23 types of decorative concrete work and 200 metropolitan areas throughout North America.
Article photo courtesy of Concrete Interior Designs Inc. Attached photos courtesy of Advanced Concrete Enhancement.
###