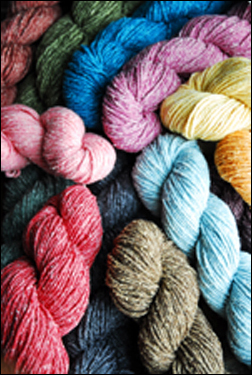 Hand knitters across the country loved our all-organic wool O-Wool™ Classic and clamored for a lighter weight organic yarn that would enable them to make items for the warmer months
Middlebury, VT (PRWEB) March 21, 2007
With Spring and Summer knitting on the minds of the nation's 53 million knitters, Vermont Organic Fiber Company (VTOF) is introducing its second hand-knitting yarn, O-Wool™ Balance - a blend of 50% certified organic merino wool and 50% certified organic cotton. With the coolness of cotton and the flexibility of wool, this yarn is perfect for light sweaters, cool-weather wraps, clothing for children and a variety of other projects. In June 2006, VTOF launched its hand-knitting yarn program with its simple yet elegant 4-ply heavy worsted weight yarn, O-Wool™ Classic. Knitters loved the Classic and craved more varieties.
The 3-ply dk or light worsted weight O-Wool™ Balance is available in 18 rich colors, including soft pastels, vibrant hues and deep earth tones. The blended fibers give the yarn a subtle, heather-like effect. The yarn comes in 130 yard/50 gram skeins and is available in select stores nationwide as well as via major Internet yarn retailers (see retail locations under O~Wool™ Hand-Knitting Yarn at http://www.o-wool.com). The cotton and wool fibers are grown according to national organic production standards and the yarn is processed in accordance with the Organic Trade Association's Fiber Processing Standards (http://www.ota.com/polls/21.html). As a result, "O-Wool™ Balance" is an environmentally sustainable, durable, long lasting and well-wearing fiber - truly a yarn in ecological balance.
"Hand knitters across the country loved our all-organic wool O-Wool™ Classic and clamored for a lighter weight organic yarn that would enable them to make items for the warmer months," said Matthew Mole, VTOF president. "With our organic wool/organic cotton O-Wool™ Balance yarn, hand knitters can enjoy using organic wool and cotton yarn with the knowledge that they are supporting organic production and processing both in the U.S. and around the world."
Using organically grown and processed fibers enables VTOF to walk its talk about sustainability. For every nine skeins of O-Wool™ Balance purchased, one acre of land used in wool production is supported under organic management annually, and the negative effects of pesticide use common to conventional cotton production are offset by organic production. Organic wool and cotton are part of the rapidly-growing $160 million U.S. organic fiber industry, which grew 44 percent in 2005, according to the Organic Trade Association 2006 Manufacturer Survey released in May 2006.
In addition to hand-knitting yarn, VTOF currently supplies commercial yarn and fabrics to manufacturers from North America to Europe and Asia, including Ibex Outdoor Clothing (Woodstock, VT), Jasco Fabrics (White Plains, NY), Maggie's Organics (Ypsilanti, MI), Patagonia (Ventura, CA), and Ambler Mountain Works (Canmore, Alberta, Canada). This year's organic wool marketplace includes blankets, diapers and diaper covers, gloves, hats, socks and sweaters manufactured from O-Wool™ organic wool. Designers from around the world incorporated "O-Wool™" yarn into their garments on the runway at the February 2007 Fashion Week in New York City. Given the breadth and high quality of its O-Wool™ fiber, fabric and yarn, Vermont Organic Fiber Company is a leader in the growing organic textile market.
###