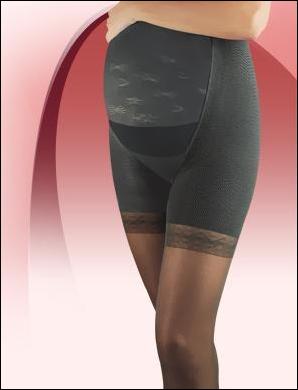 We wanted to create a functional product that also provides non-stop support for their changing bodies before and after pregnancy.
New York, NY (PRWEB) March 21, 2007
Solidea® today released a new line of luxurious maternity hosiery called Maman Maternity which provides support, comfort and quality for expecting mothers. This new line of full-length pantyhose and anti-cellulite shaping shorts offers the ultimate support and health for the lower body.
It is estimated that 20 to 40 percent of all pregnant women develop venous problems. Maman Maternity provides graduated compression in the full-length style to help prevent varicose and spider veins. It also prevents ankle swelling, water retention and pelvic discomfort, which are prominent problems for expecting mothers during and after pregnancy. The line comes with expandable, flat seams to offer non-stop cradling support for growing tummies. In addition, the Maman Maternity line helps pregnant women look slimmer with special, comfortable materials that slenderize curves.
The Maman Maternity line comes in two styles - Magic Maman Shapewear and Wonder Model Maman Pantyhose. The Magic Maman Shapewear are patented micro-massging cellulite-control shorts that promote blood circulation, reduce water retention and help prevent cellulite during and after pregnancy. This style is available in Sabbia (nude), Camel, Moka, Blu Scuro, Fumo and Nero.
The Wonder Model Maman offers tummy and full-leg support in addition to exclusive cotton soles that are designed to give added support and massaging relief to tired feet. This style is available in camel, glace, bronze and nero
"Solidea® Maman maternity products were designed for today's active mother-to-be," stated Solidea® creator Enzo Pinelli. "We wanted to create a functional product that also provides non-stop support for their changing bodies before and after pregnancy."
The lace thigh support and comfort waist band makes this line both fashionable and conducive to a pregnant woman's changing body. Solidea® maternity products range from $37.95 to $43.95 and can be purchased online at http://www.legluxe.com and in specialty stores around the world. For more information or to purchase Solidea® products, please visit http://www.solideausa.com, the U.S. distributor.
About Solidea®
Solidea® of Italy presents a new luxurious collection of leg wear and shape wear. This collection embraces a palette of gorgeous colors with figure enhancing styles. The Solidea® brand fuses tangible luxuries with hidden perks. The Micro-Massage collection provides elegant shaping as well as toning and smoothing of the skin. The leg wear is designed with energizing support helps people on the go… get going.
###