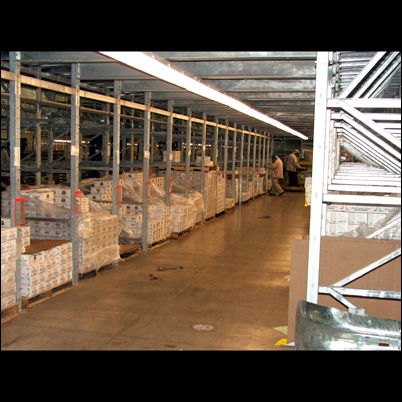 We experienced what we had predicted as 5 years of growth in a little over a year.
Stevens Point, WI (PRWEB) March 27, 2007
A pallet rack system must be designed to accommodate growth. But what happens if that company surpasses its predictions and grows too quickly? For one distribution center, it meant a frantic retooling and rethinking when the distribution system failed and demand soared.
Boar's Head Provisions is a renowned provider of high-quality delicatessen meats and cheeses. Their distribution center in Holland, Michigan, a 50,000 square foot facility, handles 186 different SKUs and services 250 local New York distributors and 120 out-of-town distributors, all on a next-day-delivery basis. Shortly after the distribution center opened with its new flow rack system, they began experiencing what many would term their worst nightmare.
"We grew faster than the warehouse could," says Dan Crook, the distribution center's manager. "We experienced what we had predicted as 5 years of growth in a little over a year."
The storage rack system was overwhelmed, along with the distribution center employees who were scrambling to keep up. "We lost a lot of work hours because our rotation was just terrible," says Crook. "We did not have enough space to rotate properly so we were looking for product continuously. The people on the floor were constantly frustrated, having to work around double-stacked and triple-stacked pallets. It was a lot of wasted money and time, and a lot of pain and agony." In fact, Crook estimates the company was spending upwards of $2,000 a week in overtime, because that's when most of the searching for product was conducted.
To add to the disaster, Crook and his staff discovered that the pallet rack system itself, a pick module installed just before the distribution center opened, was an inferior product. Pallets were sticking and weren't flowing. Wheels were falling off in droves. "I was returning damaged wheels constantly," says Crook. "They numbered in the thousands."
In desperation, Crook turned to his local materials handling dealer, Bob Luban of Progressive Handling Systems. After inspecting the facility, Luban recommended a flow rack system from Steel King Industries, Inc. "Bob promised me a well-constructed rack with a good roller wheel and brake system," says Crook. "It has by far exceeded my expectations."
The new system is a 17-bay-long pick module and flow storage system. On the floor level, through the center of the system, is a lit tunnel in which personnel pick orders from either side. Overhead is the flow storage, which is 2 levels high by 5 pallets deep. As product is depleted on the floor level, it is replenished by fork truck from the upper levels. The system is in continuous 24/7 operation, through 3 shifts daily.
The positive impact of the pallet rack system has now gone well beyond the distribution center. "We just had visitors last week from Corporate, and they can't believe the numbers we're putting out of this little place," Crook says. "The company is now looking at taking it to the next level, expanding our New York and Virginia plants into this same pick module style."
For more information about this article contact Donald Heemstra at Steel King, 2700 Chamber St., Stevens Point, WI 54481 or call at 1-800-826-0203, or visit the website at http://www.steelking.com.
# # #