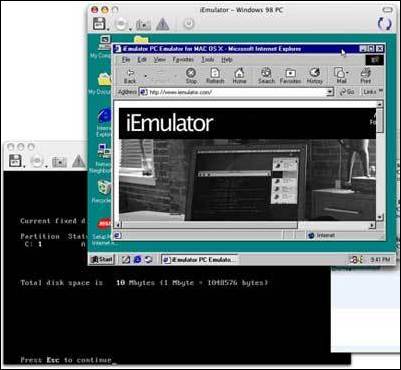 I am dubbing iEmulator -- the BEST way to run Windows.
New York, NY (PRWEB) March 21, 2007
iEmulator 1.7.9, a leading high-performance emulation solution, is again available to all Microsoft Virtual PC owners at the special price of $19.95. This upgrade price includes the full iEmulator application, comprehensive documentation, a version of DOS, unlimited no-charge updates to iEmulator and rapid-response technical support.
Since last September when this special offer first expired, iEmulator.com has received many requests from former Virtual PC users asking us to make it available again, which we now have for a limited time.
iEmulator offers an incredible feature set, including the ability to assign up to 1GB of RAM to each emulated PC, virtually instantaneous PC state saving and loading, full-screen as well as windowed mode, printing support (to both USB and networked printers), support for international keyboards, CD image as well as physical CD-ROM support, the ability to access and share Mac files and folders with Windows, audio support and support for running multiple emulated PCs simultaneously.
In addition, iEmulator can import Virtual PC 7 emulated PCs that use static-sized hard disk images, in many cases without requiring any editing of the imported PC.
Finally, iEmulator 1.7.9 is a Unversal Binary, which can run natively on both PowerPC and Intel-based Macs, offering an upgrade path to all Mac users who need to run DOS, Windows or PC Linux software.
iEmulator.com continues to set the benchmark for customer support and service. From simple thank-you's for a quick tip to comments like "iEmulator is fantastically easy to use. I was so glad to find such an affordable, user friendly program.", "your support is second to none: friendly and amazingly quick!", "(iEmulator.com has) been very responsive and helpful" and "I am dubbing iEmulator -- the BEST way to run Windows." iEmulator.com is proving that it has consistently set customer satisfaction as the number one goal above all else.
iEmulator is a high-performance PC emulator for the Mac OS X platform that has been available since November of 2004. For more information on this special upgrade offer please visit http://www.iemulator.com/vpc/
# # #