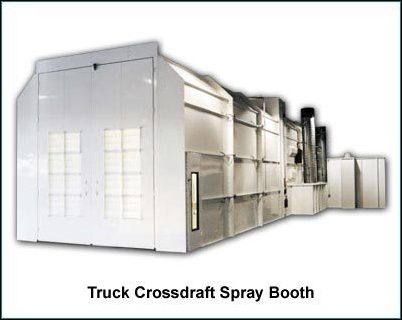 I want our paint booth customers to know we are working to develop products that are specific to their needs and that their suggestions are important to us
Royse City, TX (PRWEB) March 21, 2007
Finish Pro Spray Booths, a national paint booth supplier of industrial and automotive paint booths, has just introduced their new large equipment and truck spray booth line.
"I want our paint booth customers to know we are working to develop products that are specific to their needs and that their suggestions are important to us" says Jennifer Gottardi, president of Finish Pro Spray Booths. 'The spray booth market is a highly competitive market so we know we need to stay ahead by developing new product lines for our clients. We are the ones that customers call when they are looking for new refinishing solutions. We can develop new methods to meet the needs of our customers'.
All Finish Pros paint booths are designed by working closely with the requirements set by the OSHA, Occupational Safety & Health Administration and NFPA, National Fire and Protection Agency. Both of these government agencies are authoritative sources on public safety. In fact, NFPA's 300 codes and standards influence every building, process, service, design and installation in the U.S.
The two most most recent truck paint booths that have been introduced are the Crossdraft Truck Spray Booth and the Side Downdraft Truck Spray Booth. Finish Pro Spray Booths also offers industrial, woodworking & furniture spray booths as well as a full line of automotive paint booths.
The needs of the industrial business are different than that of the automotive business. The automotive crowd wants complete systems that contain everything they need to do the job. They are also concerned about the way the booth looks because their clients see the equipment when they are on the premises. Therefore aesthetics play a large part when designing automotive paint booths. The industrial crowd is not that concerned.
For more information about paint spray booths, visit the Finish Pro Spray Booths website at http://www.thefinishpro.com.
###