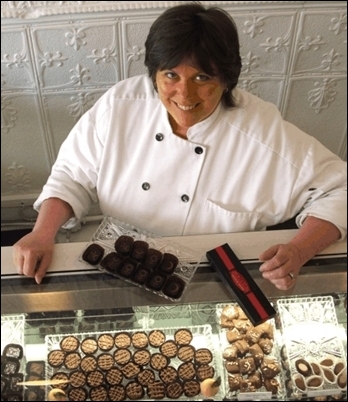 Fisher House bars are made from the same quality chocolate that I use in my artisan truffles, and available in solid milk and dark. They are ideal for a special personal treat, and also as a way for groups to express their support for the troops while serving a worthy cause
Cranford, NJ (PRWEB) March 27, 2007
"When I learned about the plight of ill and injured military personnel, I decided that I had to do something to help and that's how the Fisher House Bar was created," Diane Pinder explains.
Founder of Donna & Company Artisan Chocolates, Diane is also the mother of a US Marine who recently completed his service after tours of Afghanistan and Iraq. Diane also has a son-in-law in the Army who will be returning to Iraq in 2007.
"Since 1991 the Fisher House Foundation has been building homes near military hospitals where families of ill and injured military personnel can stay near their loved ones during treatment," Pinder explained.
Pinder's Fisher House bars have made their way to troops in Iraq, soldiers and their families staying at Fisher Houses and to the opening dedication of two new Fisher Houses in San Antonio earlier this year where her Fisher House Bar was included in gift baskets given to dignitaries.
"Fisher House bars are made from the same quality chocolate that I use in my artisan truffles, and available in solid milk and dark. They are ideal for a special personal treat, and also as a way for groups to express their support for the troops while serving a worthy cause," Pinder noted.
Diane has worked with the local REMAX real estate agent to get the word out on how the Fisher House bar supports the building and maintenance of Fisher Houses across the country. Dave Liniger, a Vietnam veteran and founder of Re/Max International Inc., made a winning bid of $1 million for the CNN Hummer that was auctioned in January 2007 to raise money for the Fisher House Foundation.
"Meeting some of the many men and women who have paid the high price of severe personal injury is a sobering experience," Pinder said. "I'm hopeful that my small effort to spread the word about the work of the Fisher House Foundation motivates others to support their worthy cause."
About Donna & Company:
Donna & Company was founded by Master Chocolatier Diane Pinder in 2005. Named in honor of her sister who was killed in an automobile accident when a teenager, Donna & Company celebrates life through Diane's artisan CocoaBee® and Tuscan Style™ artisan chocolates which were featured on the TODAY SHOW during the 9th Annual International Chocolate Show.
Contact:
Robert Koshinskie
Donna & Company
908-272-4380
###