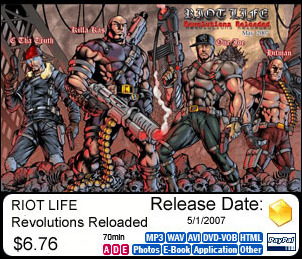 We are confident that we found the most powerful way to deliver our new project
New York, NY (PRWEB) March 22, 2007
Riot Life is set to release their new project titled "Revolutions Reloaded" through their Riot Life Group (RLG) music division. The project will be available on the group's website and MySpace page on May 1, 2007.
While the world continues to search for the "killer app" of digital content distribution, Riot Life will deploy a new groundbreaking digital distribution technology named LAMbCast CDS.
"Revolutions Reloaded" is an 11 song album delivering the group's patented "Riot Music" which is comprised of an aggressive mix of diverse Hip Hop and Rock. With the assistance of the new technology, Riot Life will deliver a burnable retail equivalent CD and DVD of their album and music videos. Fans will be able to use CDS to encode the album tracks into standard MP3 files and the videos into the iPod video format. As a bonus, the group will include a magnitude of bonus material including ring tones, computer wallpapers, album lyrics, a printable CD cover, and a futuristic mini novel titled "Revolutions In Our Time 2075". The price of this package will be $6.76 with an option for buyers to resell the offering making $3.00 using the CDS 50% affiliate partnership feature.
A free CD and MP3 maxi single of music not on the album will be delivered in a "Sponsored" package which allows fans to view videos of movie trailers, commercials and cross marketing items used to generate revenue to cover the cost of the content given to them after viewing.
Every 1000 purchases, Riot Life will reward the buyer with a Creative Zen Vision W 60GB media player.
"We are confident that we found the most powerful way to deliver our new project" ,says Edward Robles, RLG's Co-Director and Product Manager, "I think this is the first time an Indie company has a technological advantage over the major companies and it is a true testament of a continuing power shift. With CDS we no longer have to pay for expensive manufacturing and shipping, so now we can deliver more content at a price that is acceptable to buyers. With the PayPal based payment system, we receive real time payments and we can offer the same to our buyers that choose to resell our package."
About The Riot Life Group (RLG):
Established in 1997, The Riot Life Group is a multi media entertainment company with subsidiaries specializing in music, publishing, merchandising and film. With the vast worldwide expansion of the Internet, RLG continues its innovation of delivering top quality entertainment with new and emerging industry leading technologies. RLG's properties have expanded into the fields of the music recording industry, book publishing, clothing, video games and toy merchandising, with an emerging presence in film and animation.
About The LAMbCast Content Distribution System (CDS):
LAMbCast CDS is a patent pending PayPal payment based secure digital container system designed to deliver files and burnable formats to consumers. With its open architecture, CDS offers the ability to sell digital content with no start up cost with immediate product preparation and payments. With additional features such as an HTML badge creator, and a 6 way "point of sale" split payment system, CDS is positioned to become the top choice for digital delivery. CDS supports a diverse array of delivery options including Windows files, CD, DVD, BlueRay, HD-DVD, and future support for Holographic media.
###