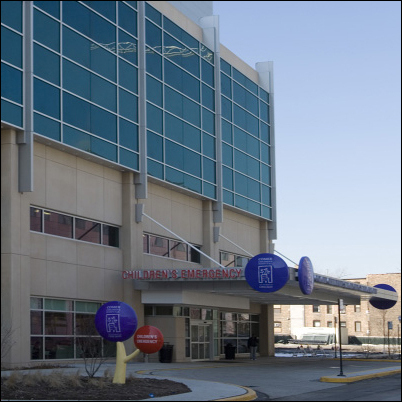 Chicago, IL (PRWEB) March 22, 2007
Leopardo Construction, a leading construction services firm, completed a new 140,000-square-foot addition to the University of Chicago's Comer Children's Hospital.
Located at 5730 S. Drexel Avenue in Chicago, the $31.3 million expansion features four stories plus a mechanical penthouse, 21 exam rooms, two trauma rooms, two procedure rooms, two isolation rooms, an Ob/Gyn room and a psychiatric exam room. The space also includes a lobby with interactive children's games, state-of-the-art patient monitoring hub for real-time data terminals, full-floor pediatric emergency department, full basement for mechanical and electrical systems, steam and chilled water systems, and two 1,100-kW generators that were relocated into the new structure without incurring any loss of power to the occupied facility.
"Our team of healthcare construction experts skillfully managed the logistical sensitivities of working between the occupied hospital and a landmark building," said Michael Mastin, the Leopardo Construction project manager who oversaw the Comer addition. "With an aggressive schedule in place, we completed the project in 16 months."
Since construction took place near sensitive medical practice areas, Leopardo implemented extensive noise and vibration control measures to prevent the risk of compromised patient care. For example, Leopardo created a safety procedure utilizing a custom alert system that allowed for an entire site shutdown in less than 15 seconds. Upon receiving a paged message from the client, a foreman or superintendent could activate a remote control which would signal all workmen, who were trained on the emergency procedure before they were allowed to enter the worksite, to quickly and safely stop what they were doing.
Leopardo Construction served as general contractor with Smith Group as project architect. Over the last 15 years, Leopardo Construction has collaborated with University of Chicago Hospitals on more than 50 projects.
About Leopardo Construction
Leopardo Construction is a leading construction firm providing pre-construction, general contracting, construction management, design-build and development services. In 2006, Leopardo Construction was recognized by Engineering News-Record magazine as one of the nation's largest 250 contractors. The company's team of 500 experts has specialized capabilities in interiors, healthcare, senior housing, retail, office, industrial, residential condominiums, aviation, hospitality and community-related projects such as libraries, churches and educational institutions.
For more than a quarter century, Leopardo's family of employees has been committed to quality construction, superior client service and tremendous value. In addition to its corporate headquarters in Hoffman Estates, Illinois, Leopardo Construction has offices in Chicago and Mount Pleasant, South Carolina, as well as job sites across the nation. For more information, please visit http://www.leopardo.com.
###