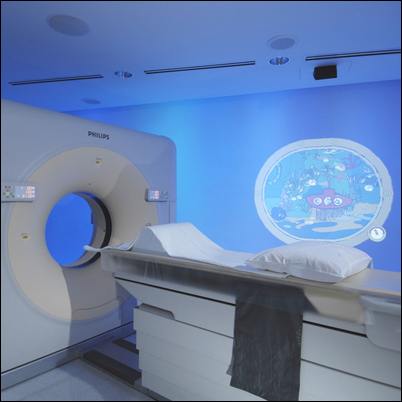 Wilmette, IL (PRWEB) March 22, 2007
Leopardo Construction, a leading construction services firm, completed the 7,500-square-foot Advocate Imaging Specialists center in Wilmette, one of the first facilities in the country to offer an outpatient Ambient Experience™ by Philips.
Philips' Ambient Experience™ utilizes leading-edge design, advanced diagnostic imaging technology, sophisticated lighting and consumer electronics to create a comfortable and patient-friendly spa environment for those undergoing medical scans.
Patients choose from different themes, such as aquatic, jungle, space, fly-through and a default lava lamp-type ambience. RFID-encoded cards corresponding to the theme chosen by patients cause the lighting and wall/ceiling projection to change in the exam room as they enter. Combined with custom audio, it creates an immersive, soothing environment.
"This facility was meticulously designed and constructed using Bamboo floors and earth-toned materials to establish a warm, welcoming environment with spa amenities to pamper patients," said Michael Loftsgaarden, project manager at Leopardo Construction.
Leopardo Construction served as general contractor with Jensen & Halstead as project architect. Philips provided design oversight.
About Leopardo Construction
Leopardo Construction is a leading construction firm providing pre-construction, general contracting, construction management, design-build and development services. In 2006, Leopardo Construction was recognized by Engineering News-Record magazine as one of the nation's largest 250 contractors. The company's team of 500 experts has specialized capabilities in interiors, healthcare, senior housing, retail, office, industrial, residential condominiums, aviation, hospitality and community-related projects such as libraries, churches and educational institutions.
For more than a quarter century, Leopardo's family of employees has been committed to quality construction, superior client service and tremendous value. In addition to its corporate headquarters in Hoffman Estates, Illinois, Leopardo Construction has offices in Chicago and Mount Pleasant, South Carolina, as well as job sites across the nation. For more information, please visit http://www.leopardo.com.
###