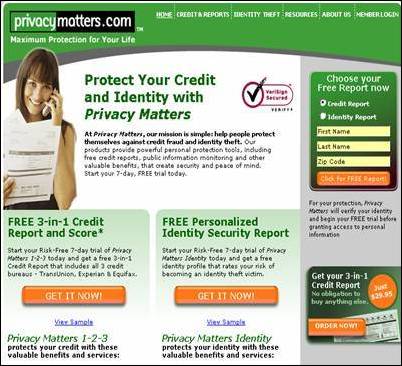 Norwalk, CT (PRWEB) March 26, 2007
PrivacyMatters.com, a leading online destination for credit management and identity theft protection services, announces its re-launch with more features and services for those interested in maintaining a good credit history as well as protecting their identity. The new PrivacyMatters.com offers easy accessibility to discounted credit reports and credit scores from the three business bureaus, credit monitoring alert service for PrivacyMatters members, plus a content rich credit learning center with credit and identity theft educational features available to every visitor.*
Part of PrivacyMatters.com's redesign strategy was to improve the website's consumer friendliness by making the visitor's experience faster, easier and more productive. With identity theft cases rising and early credit management becoming more popular, easy usability is the core of PrivacyMatters.com and the PrivacyMatters line of products.
Consumers visiting PrivacyMatters.com have easy access to Free Triple Bureau Credit Reports and Triple Bureau Credit Scores in one simple report; credit, identity, and security products; and key information to help them protect their credit and prevent identity theft. PrivacyMatters' top of the line products, Privacy Matters 1-2-3 and Privacy Matters Identity, can also be accessed at http://www.privacymatters.com.
Privacy Matters 1-2-3 assists members in managing their credit profile by providing unlimited access to their 3-in-1 credit report and credit scores. Members are automatically enrolled in a credit monitoring protection program that provides daily updates to changes on their credit file. The product also offers members-only discounts on a variety of products and services. Since each credit bureau reports a different credit score, Privacy Matters 1-2-3 comes in handy, helping members understand the differences of each. The product also provides tips and resources to help fix any discrepancies that may have a negative impact on their credit score.
Privacy Matters Identity provides members with the security and peace of mind they need to protect themselves against identity theft. Daily monitoring and accessibility to public records and alerts regarding suspicious activities affecting identity information are just some of the benefits offered by the Privacy Matters Identity program in addition to the Privacy Matters Identity's Personalized Identity Theft Security Report.
Credit card debt and identity theft are becoming a national concern. According to a recent Federal Reserve report, the proportion of families carrying a credit card balance rose from 4.4% in 2001 to 46.2% in 2004, an increase of 1.8 percentage points. Another report by the Federal Trade Commission reported that for five years in a row identity theft topped the list of consumer complaints in 2005, with identity theft accounting for over 37 percent of all complaints lodged in the FTC Consumer Sentinel database.
PrivacyMatters.com provides members with the tools needed to fight these trends. With PrivacyMatters' http:credit monitoring and identity theft prevention features, members of PrivacyMatters' products know their credit and identity are in the right hands.
About PrivacyMatters.com
PrivacyMatters.com educates consumers on the truths and facts of identity theft and credit management by providing visitors and members with the latest news on identity theft and credit management, access to educational articles, and Privacy Matters1-2-3 and Privacy Matters Identity programs with unlimited access to 3-in-1 credit reports and scores, daily Triple Bureau credit monitoring, identity theft monitoring services and more.

Neither PrivacyMatters.com, Privacy Matters 1-2-3 or Privacy Matters Identity nor any of their benefit providers are in the business of, or receive any fee for, credit repair services. PrivacyMatters.com, Privacy Matters 1-2-3 and Privacy Matters Identity are not credit repair or credit services organizations or businesses or credit clinics, as defined by federal and state law, nor are any of their benefit providers.
###