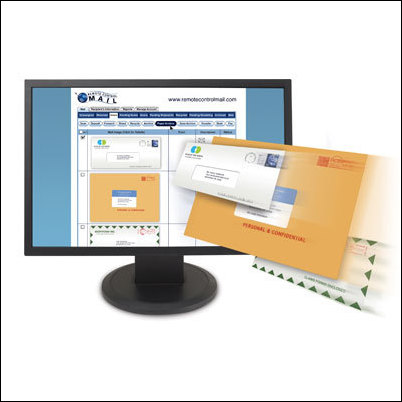 I checked out RemoteControlMail.com because I just accepted a new job in another state
Washington, DC (PRWEB) March 26, 2007
Remote Control Mail™ (http://www.RemoteControlMail.com) is leveraging the power of the Internet to launch a postal revolution.
Earth Class Mail™, a new eBook published today (http://www.earthclassmail.com), outlines a major shift in the evolution of the postal industry, which hasn't seen much fundamental change since Benjamin Franklin invented the early-American postal service 225 years ago.
Earth Class Mail represents a dramatic change in how postal mail will increasingly be delivered: online, available anytime, anywhere, and as easily managed as your email. Remote Control Mail's online postal service is Earth Class Mail because it is global and delivers mail electronically to addressees no matter where in the world they are. And Earth Class Mail conserves the environment by lowering energy costs for posts and enterprises and by significantly increasing recycling of paper worldwide. The imminence of Earth Class Mail is just one reason, the book argues, that the U.S. Postal Service may have to consider going public and innovate sooner rather than later.
" Remote Control Mail customers hail from more than 80 countries. These customers include expatriates, retirees, students and frequent travelers, and companies whose employees telecommute or work in remote locations," says Ron Wiener, CEO and founder of Remote Control Mail. "Our usage statistics show that when given a choice of what to do with their mail, as our patent-pending service does, more than 90-percent of our customers do not want their mail in paper form. Yet most companies and national post offices are still paying to move it around as paper."
The main reasons customers give for signing up to Remote Control Mail are mobility and prevention of paper pile-up. "I checked out RemoteControlMail.com because I just accepted a new job in another state," said customer Laura Riley of San Francisco. "Since I have no idea where I will be living, this service is the perfect solution. It's such a relief to know that my postal mail will be seamlessly delivered to me online - no matter where I choose to live."
The eBook, Earth Class Mail, addresses the social, political, and technological backdrop for the larger discussion of online postal mail and describes at a high level how this vision can be implemented, incrementally, by any postal operator or enterprise - starting today - to bring their postal mail into the 21st century.
About Remote Control Mail
Remote Control Mail (http://www.RemoteControlMail.com) gives customers the ability to access their postal mail online - as easily as email - from anywhere in the world. The service also manages standardized process mail, such as claim forms, invoices, and checks, even more efficiently and cost-effectively. Remote Control Mail online postal mail may be used by individuals, small-to-medium sized businesses, and enterprises alike. The service is already in use by businesses and individuals in more than 80 countries. The company also connects a network of mail presort bureaus in major cities to provide local mail pickup, sorting, and document scanning services. Founded in 2004, Document Command operates its mail processing and document archival center in Beaverton, Oregon, and the corporate headquarters are located in Seattle, Washington. Additional processing centers are expected to be opened in other parts of the U.S. in 2007.
###