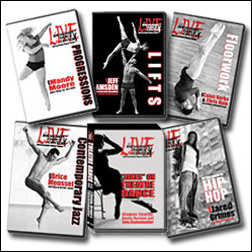 From privately owned dance studios to most high schools in the USA now having competition dance teams, launching this site allows all those instructors an immediate outlet for new and innovative choreography and training.
New York, NY (PRWEB) March 28, 2007
Tezoro Productions LLC, the parent company of the LIVE at Broadway Dance Center instructional dance and exercise Video/DVD series, announced the first online portal dedicated 100% to providing video based dance and fitness training for as low as $1.95. You can now download directly to your PC or playforsure Player with windows media player and have immediate access to the newest dance moves.
The Video/DVD series were created to give dancers everywhere the opportunity to learn from Broadway Dance Center's master faculty members without having to travel to the premier New York studios. The LIVE series include lessons for the beginner, intermediate, advanced and professional dancer.
Using technology provided by Digital Rights Director, Tezoro is now able to offer delivery of its entire media catalogue by download when someone places an order. The customer now has flexible options to download an entire video or segments of any video title with this cutting edge technology. This gives customers immediate access to the videos they purchase and eliminates their shipping and handling costs as well as allows the videos to be more readily marketed internationally.
After receiving numerous requests from customers worldwide, the company decided to make available the downloadable option. "We are very excited to partner with Digital Rights Director, and to offer our customers a reasonably priced, immediate access download, to top dance teachers and lessons in the industry," said Michele Assaf, President of Tezoro Productions. Dance has become a universal form of exercise." From privately owned dance studios to most high schools in the USA now having competition dance teams, launching this site allows all those instructors an immediate outlet for new and innovative choreography and training."
LIVE at Broadway Dance Center Video/DVDs are designed with the dancer in mind, featuring camera angles facing the mirror to replicate the feeling of dancing in a studio/class setting. Detailed tips and helpful instructions from the choreographer, as well as the use of assistant dancers to watch alongside the instructor enhance the consumer' s experience.
"Broadway Dance Center is the premiere dance and fitness training facility in the country and we are extremely pleased they have chosen our platform to expand the availability of their curricula," said Jonathan Castleman, President of Digital Rights Director.
Customers on the Tezoro Productions web site (http://www.liveatbdc.com) are able to select 'Download Video Now'. That link directs the customer to a mirror site http://www.dancefitnessdownloads.com configured by Digital Rights Director to provide the encoded dance videos as a download media file.
Digital Rights Director offers a complete online media distribution platform for small to medium sized businesses that allows content owners to sell digital audio and video from their own ecommerce stores in a protected format that prevents digital piracy. For more information on Digital Rights Director, call (800) 376-9704 or visit their web site at http://www.digitalrightsdirector.com.
About Tezoro Productions, LLC
Tezoro Productions LLC began with the long time dream of bringing the essence and brilliance of a dance class at NYC's Broadway Dance Center into the living rooms and studios of dance students worldwide. For years, dance students of all ages and levels have yearned to be a part of the excitement that could only be found by traveling to New York City and studying with a faculty whose choreographic credits include everything from video, stage, television, film, rock tours and of course, Broadway. Now through the exceptional direction and choreography of the dance industry's top talent, the extensive information you need as a dancer or teacher can be found in the LIVE at Broadway Dance Center video/DVDs. Tezoro Productions offers you the best series of instructional videos found on the market today. You will learn like a true professional. Our instructors are committed to bringing you the finest quality of dance education and the hottest moves in the business.
The Live At Broadway Dance Center DVD Library includes the following titles:
New Titles: (released March 1, 2007)
Progressions with Mandy Moore featuring Nick Lazzarini, Be the music in Hip Hop with Jared Grimes, Floorwork Volume I with Calen Kurka and Chris Hale, Contemporary Jazz with Brice Mousset and Lifts Volume I with Jeff Amsden featuring Katy Spreadbury.
3rd Series:
The Complete Assaf Warm-Up with Michèle Assaf, Tap Tap Boom! with Jared Grimes, Latin Jazz and Intro to Partnering with Maria Torres, Creative Movement for 3 & 4 Year Olds with Toni Noblett, Breakdance with Ephrat Asherie aka B-girl Bounce.
2nd Series:
Active-Isolated Strength Program with Michèle Assaf and Jim and Phil Wharton, Lyrical Jazz with Joey Dowling, "Takes" on Theatre Dance with Andy Blankenbueler, Eugene Fleming and Danny Herman, Street Jazz with Rhapsody
Original Series:
Active-Isolated Flexibility with Michèle Assaf and Jim and Phil Wharton, Jazz with Frank Hatchett, Hip Hop/ Funk with Jermaine Browne, Turns and Turn Combos with Michèle Assaf
The Live at Broadway Dance Center DVD media files are available for sale at http://www.LiveatBroadwayDancecenter.com as well as http://www.dancefitnessdownloads.com.
The Website offers customers a chance to preview portions of each instructional DVD as well as biographies of each of the instructors.
For more information about Tezoro Production's products, including video downloads; please call Ryan Saab, Director of Marketing at 212) 582-1090.
Broadway Dance Center is a premier New York dance studio that has served professional and recreational students for 23 years. Yearly 50,000 students come to train from all over the world. BDC offers dance education from master faculty and an encouraging environment for all dancers.
For more information about Broadway Dance Center, call (212) 582-9304 or visit http://www.BroadwayDanceCenter.com.
# # #