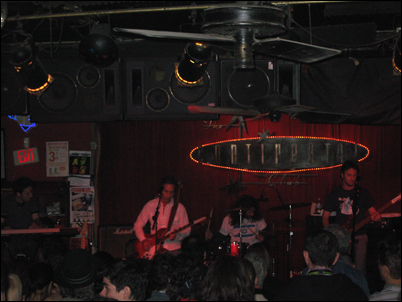 Rockfour blends a 60's rock era style from influences like Pink Floyd and mixes it with guitar riffs that can be linked to today's independent rock scene
NEW YORK, NY (PRWEB) March 23, 2007
BreakThru Radio (BTR), the Internet's source for the World's Best Independent Music, is continuing its special concert series with music recorded during last weekend's South by Southwest (SXSW) festival. On Monday, March 26, the station will be airing an exclusive live recording of the band Rockfour. Indie music fans can log onto http://www.breakthruradio.com and listen to this show, as well as other amazing performances from bands recorded during the festivities in Austin, Texas.
In April, Rockfour is set to release their fifth CD, entitled Memories of the Never-Happened. The Israeli indie rock group has been described as a "tightly knit mesh of guitar driven drums-bass-vocal-harmony that hints at Love, The Beatles [and] The Byrds." The band's version of Pink Floyd's"Arnold Layne" recently won a Pink Floyd cover contest, which was judged by David Gilmour himself. A video of Rockfour's SXSW performance will also be available on the station's website as the featured video for next week.
This is the latest installment in BTR's special concert series, which began on Monday with an inspired set from The Hourly Radio and continues today with an exciting turn from indie band Jack.
"Rockfour blends a 60's rock era style from influences like Pink Floyd and mixes it with guitar riffs that can be linked to today's independent rock scene," says BTR's DJ Jeff K, who attended the Austin festival. "They perform an atmospheric show that captivates an audience for all ages, not just the classic rock minded music fans."
These performances were recorded at each band's request by members of the BTR team for future airing on the website. Other shows recorded during SXSW include electrifying showcases from talented bands such as Semi Precious Weapons, Illinois and The Pinker Tones. The concert series is a great opportunity for music fans to experience the bands they love, even if they were unable to make it to the actual show.
BTR's concert series isn't just limited to SXSW. In addition to the Jack show, the station will also premiere the second half of their live exclusive set from popular indie jam band Lotus recorded last month at the Bowery Ballroom. Listeners can check out each of these exciting performances from the live concert series in the BTR player by visiting http://www.breakthruradio.com.
About BreakThru Radio
BreakThru Radio (BTR) is the Internet's source for the World's Best Independent Music, where expert DJs expose the rich underground of sound not found on commercial radio. Whether it's death metal, dancehall, hip-hop, indie rock, roots country, reggae, electronica, acid jazz, ambient beats, dub, two-step or folk, whatever genre you can imagine, BTR has it well-stocked, and with no expiration date.
In a world where independent music is becoming infinitely more accessible, the need for informed sources to filter out the best of it has become a necessity. Music fans across the globe are beyond frustrated with commercial radio, and often feel victimized by it.
Until now.
"Music for music lovers," is BTR's motto, and one that its DJ's take very seriously.
BTR offers its listeners unlimited access to underground music, twenty-four hours a day, seven days a week, with a daily audience that includes more than two dozen countries. With its unique on-demand musical programming and focus on the best in new, independent music, it's no surprise the site has garnered over 80 million listeners in its first year.
2007 has seen the addition of independent video coverage to BTR, as well as top-notch editorial content and an intuitive global show calendar. In fact, you could say that BTR has taken everything a music fan could ever need or want, and put it all into one cohesive website, completely free of charge.
Unlike other radio stations, BTR offers on-demand programming; a first in internet radio. Listeners can cater to their specific musical preferences, and at the same time discover the best independent and unsigned artists from across the world.
Using the cutting edge technology of UpSNAP, BreakThru Radio makes all of its shows more accessible to an on-the-go market of students and young professionals, via exclusive access to its on-demand programming through the medium of mobile phones. BreakThru Radio services are available through virtually all of the major carrier networks in the U.S., including Nextel/Sprint, Cingular, Verizon, Alltel and T-Mobile.
BTR can be heard on http://www.breakthruradio.com and http://www.NYTrack.com, New York's only website dedicated to the tri-state high school track community, thus reaching over 5 million high school students.
Contact
Colleen McAllister,
BreakThru Radio
colleen @ breakthruradio.com
###