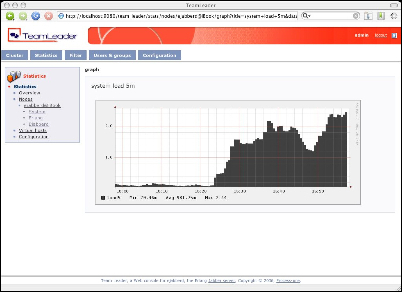 Paris (PRWEB) March 26, 2007
Process-one, specialist in High-Performance Instant Messaging solutions, announces TeamLeader, a supervision and monitoring console for large scale instant messaging clusters.
Process-one's customers manage many of the largest standard-based instant messaging deployment in the world. They need a tool to really understand what's happening in their instant messaging cluster to quickly react to potential problems.
Large and industrial deployments of mission critical Instant Messaging services need a management tool:
to manage the cluster components
to monitor the Instant Messaging cluster health
to diagnose and troubleshoot potential problems in the cluster configuration or in the clients behavior.
With TeamLeader, they now have the perfect tool to manage their system. TeamLeader gives them:
More information on the state of the Instant Messaging cluster.
A view of what people are currently doing on their Instant Messaging cluster.
An history of the packets and usage pattern of the system over a configurable period.
An interface with their usual SNMP supervision tool, for integration in their system administration workflow.
TeamLeader is available today for customers of our subscription program, as a licensed software. TeamLeader is currently able to supervise ejabberd Instant Messaging cluster, but can be extended in the future to support other XMPP based servers.
For more information on TeamLeader, visit: TeamLeader
About Process-one
Process-one is a company specialized in high-performance messaging solutions. The company actively develops the ejabberd server and offers strong commercial support for ejabberd installations around the world. It has customers managing millions of registered users and, as a result, Process-one has emerged as one of the major messaging solution providers.
For more information, please visit: Process-one
About ejabberd
ejabberd is a proven and highly scalable XMPP server with full features. Distributed under an Open Source license, the server currently powers many of the largest Jabber deployments in the world. It therefore accounts for several million registered users.
ejabberd is renowned for its cluster support which leads to unmatched features such as:
a single domain can be served by a cluster of ejabberd nodes
fault-tolerance: server can keep on running even if several nodes in the cluster fail
scalability: cluster nodes can be added or removed on the fly without stopping the servers
For more informations, please visit: ejabberd
###