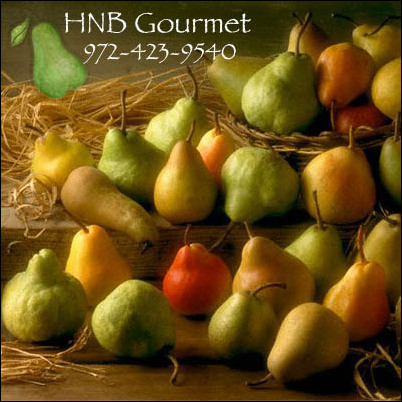 Our prices reflect the fact that we're not paying exorbitant overhead and we don't employ a large staff. We stay focused on serving the highest-quality food.
Plano, TX (PRWEB) March 24, 2007
Heidi Whitehead, who owns HNB with her husband, Robert, is a Cordon Bleu-trained chef who prepares lunch and dinner entrées, sides, and desserts in the traditional French fashion.
"We don't compromise on the quality or the quantity of our food," Mr. Whitehead says. "In the French tradition, we use only the purest ingredients, and strive to make everything the best we can. High-quality butter, the purest cream, even the sea salt we use - everything is a cut above the ordinary" he adds.
Each day, HNB Gourmet offers a wide-ranging lunch menu available to take out, or to enjoy at one of the restaurant's handful of tables. Dinner offers an ever-evolving selection of three to ten entrée choices, each carefully based on the freshest ingredients available - and everything is packaged in special containers that keep the food warm for 30 to 45 minutes, Mr. Whitehead says. He adds that while the containers can be microwaved, he and his wife suggest enjoying the food as soon as possible after it's picked up, to ensure optimum flavor.
A recent dinner special, Mr. Whitehead's favorite, was the surf-and-turf entrée, which features four large shrimp, a bacon-wrapped filet mignon, garlic mashed potatoes, and asparagus with prosciutto - all packed to take home and enjoy, priced at $26.50. "The same meal at a quality restaurant in this area would run at least $45," Mr. Whitehead explains. "Our prices reflect the fact that we're not paying exorbitant overhead and we don't employ a large staff. We stay focused on serving the highest-quality food."
That commitment to quality extends to the simplest lunch items as well. "One of our customers' favorite items is the Cajun chicken salad sandwich. We have people driving from Coppell and Irving for it, and they even buy the chicken salad by the pound to have on hand at home," he adds.
Even that lowly lunchtime staple, the cheeseburger, is elevated to gourmet status at HNB. "We do our hamburgers in the style of In-N-Out Burger of California," Mr. Whitehead says. As with that famed west-coast hot spot, only fresh - never frozen - Black Angus beef is used, and Mrs. Whitehead seasons the beef and shapes each burger by hand. Toppings of Tillamook cheese and fresh condiments ensure a dining experience that's unrivaled. Add a side of the hand-cut fries, and the drive-through burger will fade from memory.
To make the HNB dining experience even easier, the eatery provides call-ahead service - simply phone in your order with a requested pick-up time, and your meal will be piping hot and waiting for you to enjoy with your family - or that special someone. HNB also offers an e-mail service that alerts customers to the day's specials.
Catering is also available for dinner parties as small as four guests, or for parties of 200 or more. That catering option makes entertaining as easy - and impressive - as a mid-week meal from HNB.
The Whiteheads moved to the Dallas area from California, where Mrs. Whitehead had worked for many years in the restaurant industry following her Cordon Bleu training. "When we came to Dallas, Heidi turned down offers from some of the best restaurants in town," Mr. Whitehead says. However, the couple decided to open their own establishment, designed to allow them time with their children. In fact, the full name for HNB Gourmet is Harry, Nat & Bernie's, after three of their four children. Mr. Whitehead explains that their fourth child came along after the name was conceived.
"We wanted to do our own thing so we can be with our kids, and so Heidi can have some semblance of a normal life and still do what she's passionate about," Mr. Whitehead says.
That passion shows through in every dish Mrs. Whitehead serves up. To discover for yourself all the fabulous to-go dining options HNB Gourmet provides, visit their website at http://www.hnbgourmet.com, where you can join the e-mail list and peruse the menu - or drop by HNB Gourmet at 4101 East Park Boulevard, on the northwest corner at Los Rios. HNB is open from 11 a.m. until 7 p.m. Monday through Saturday. For more information, phone HNB Gourmet at 972-423-9540.
###