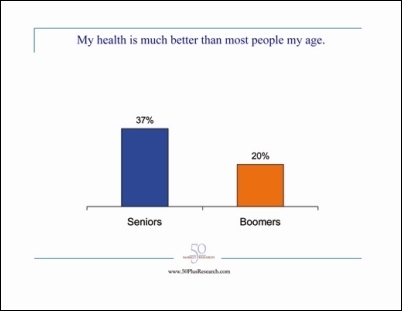 My health is much better than most people my age.
San Francisco, CA (PRWEB) March 28, 2007
Americans generally assume that as they age they will feel less and less healthy. They will "Feel their age." In fact, the opposite is true. According to a recent survey of over 500 Baby Boomers and Seniors conducted by 50Plus Research, a market research company specializing in the Baby Boomer and Senior market.
Seniors feel healthier than Baby Boomers.
Compared to their friends, Seniors feel very healthy. In fact, 37% of Seniors feel that "My health is much better than most people my age." But only 20% of Boomers feel this way. Why?
We feel healthier as we age.
As we age, we come to accept our own health problems. We get used to them and they don't seem "too bad." But we don't minimize the physical decline we see in those around us. We hear the complaints of our friends and loved ones as they age, and we say to ourselves "I'm doing better than they are." And by comparison, we feel healthy.
I'm in great shape -- but my husband's a wreck.
Unfortunately, this self perception of good health, doesn't include our spouse. Seniors believe that they are in much better shape than their spouse. While 37% think they're in great shape. Only 23% think their spouse is in great shape. We see their health problems much more clearly than we see our own.
Self perception is king.
So the moral of the story is that as we grow older we should all have a little more tolerance for the health problems of those around us. As it turns out, we look as bad to them, as they look to us.
About 50Plus Research.
50Plus Research http://www.50PlusResearch.com conducts strategic market research studies for companies serving the Baby Boomer and Senior markets.
Contact Jacob Brown (415) 789-1042.
###