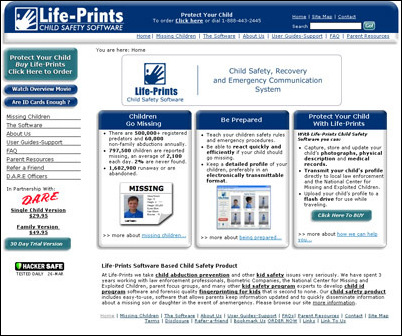 Charlotte, NC (PRWEB) March 27, 2007
Since 1983 D.A.R.E. America has been educating and helping our nation's youth avoid drugs, gangs, and violence. Life-Prints Solution's Child Safety Software streamlines the steps required to maintain and communicate a child's critical information profile in the case of an emergency. These two child safety organizations have joined forces in the quest to protect America's youth.
"We are honored to be associated with an organization that has been concerned with the safety of our children for so many years,'' Chuck Bowman, Life-Prints' CEO, says. D.A.R.E. America has been teaching children skills to avoid violence and drugs for more than two decades and has implemented their drug and violence awareness programs in 75 percent of school districts nationwide.
Life-Prints software enables parents to maintain up-to-date, electronic profiles of their children stored on their computers or password protected flash memory devices. Digital photographs, physical descriptions, medical records, insurance information, friends' contact numbers can all be stored and are available for transmission, in case of an emergency. Other features include the capability to digitize ink fingerprints, print an unlimited number of child ID cards, as well as print posters and flyers. The child's emergency files can be transferred to any flash memory device, including keychain sized drives, camera memory, and certain cell phones, providing an added measure of safety while traveling.
The software has a parent resource site that offers local maps of law enforcement agencies with contact information, locations of registered child offenders in most states and links to Child Advocacy Groups. These benefits make the software a comprehensive solution for concerned parents or guardians.
D.A.R.E receives a contribution from each enrollment in Life-Prints. Please visit either at Life-Prints.com or DARE.com for more information.
About D.A.R.E.:
This year millions of school children around the world will benefit from D.A.R.E. (Drug Abuse Resistance Education), the highly acclaimed program that gives kids the skills they need to avoid involvement in drugs, gangs, and violence. D.A.R.E. was founded in 1983 in Los Angeles and has proven so successful that it is now being implemented in 75 percent of our nation's school districts and in more than 43 countries around the world. D.A.R.E. is a police officer-led series of classroom lessons that teaches children from kindergarten through 12th grade how to resist peer pressure and live productive drug and violence-free lives.
About Life-Prints:
Providing child identification software designed specifically for instant use by law enforcement and child advocacy agencies, Life-Prints Child Safety Software is putting the most advanced and thoroughly researched technology to work for today's parents who are searching for an effective and affordable child safety program. The Life-Prints software system provides unlimited child ID cards, sophisticated and detailed information profiles and tools for instant police notification if a child goes missing.
###