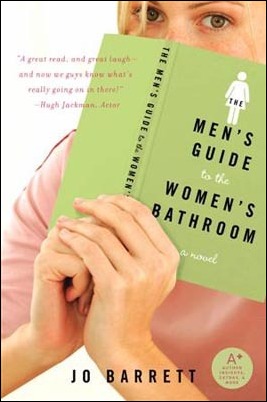 The Men's Guide to the Women's Bathroom
New York and Houston (PRWEB) March 27, 2007
Like the lead character of her new novel, Texas author Jo Barrett has spent considerable time in women's bathrooms noting the joys and sorrows she overheard - so much time, she says, that her friends suggest that she has a law degree from Georgetown and a PhD in Bathrooms.
Barrett's debut novel - "The Men's Guide to the Women's Bathroom" (ISBN: 978-0-06-112861-5; $13.95, released by William Morrow) - began as a non-fiction project that explored the social evolution of women's bathrooms since the Industrial Revolution.
According to Barrett, "With this book, I attempted to answer the age-old question: 'What are you ladies doing in there?' The bathroom is a place of real bonding for women. You rarely hear the words 'mind your own business' in the women's bathroom. I originally envisioned this book as non-fiction with research of contemporary culture, but ended up with a novel perfect for the beach or a weekend trip, mixed with some fascinating history of the women's bathroom. I'm grateful that the book has been so well received and has been compared to other works such as 'Sex and the City.'"
Barrett's fresh, fast-paced novel provides a whimsical behind-the-scenes look at life in women's bathrooms through the eyes of Claire St. John, a divorced 30-something professional who has given up her high-profile New York legal career to return home to Austin, Texas. There she finds the inspiration to write the ultimate guidebook on what goes on behind the door marked 'Women,' while trying to right the course of her own personal life.
The book has been optioned by CBS and Paramount Studios with actor Hugh Jackman's production company, Seed Productions, attached to produce. Mr. Jackman said, "It's a great read and a great laugh - and now we guys know what's really going on in there."
According to Texas Monthly magazine, Barrett has produced 'a spunky debut novel' that aspires 'to break through the glass bookshelf of the chick-lit ghetto.'
Barrett has a three-book deal with Avon A+, an Imprint of HarperCollinsPublishers, and her follow-up novel, 'Killing Carlton,' will be published early next year.
More information about "The Men's Guide to the Women's Bathroom" can be found online at: http://www.jobarrettbooks.com/home.htm.
About Jo Barrett. Jo earned a B.A. from the University of Texas at Austin and a law degree from Georgetown University. She's a former Capitol Hill staffer for Rep. Collin Peterson from Minnesota and worked at Cardozo Law School in New York City. She has edited several finance books, most notably, 'The Essays of Warren Buffett: Lessons for Corporate America.' She divides her time between Texas and New York City.
Media Contact:
Erin Powers
Powers MediaWorks LLC
281-362-1411 or 281-703-6000
###