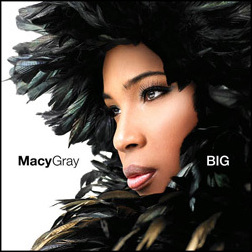 Each of these songs was written in less than a day -- the music and lyrics came right out
Los Angeles, CA (PRWEB) March 27, 2007
Songwriter and Producer Joe Solo has once again collaborated with Macy Gray on a song for her new album Big, released by Geffen Records today. The song they co-wrote -- "Glad You're Here" -- is a groovy mid-tempo track that is destined to be a classic. Produced by Black Eyed Peas' will.i.am and featuring Fergie on background vocals, Gray's soulful voice delivers a powerful message that taps into the universal need for human reconnection. Whether one is reuniting with friends and family or in the midst of rekindling a relationship, "Glad You're Here" is a song that everyone can relate to.
Solo and Gray began collaborating in 1985, when both were just getting their feet wet in the LA music scene. Solo added chords and rhythm to Gray's lyrics and melodies, and then helped to transform those songs into full-blown arrangements. They ended up with a wealth of songs, including the hit 'Sweet Baby' featured on Gray's 2001 release, The Id. The critically acclaimed single, which was produced by Rick Rubin and featured singer Erykah Badu, topped the Billboard charts.
"I love him," exclaims Macy Gray. "I love Joe! We've worked together over the years, on some great songs, including 'Sweet Baby' and 'Glad You're Here.' He's a great writer and an even greater person."
"We met in a Beverly Hills diner," says Solo. "Macy was a cashier. I had the obligatory '80s guitar-player hairdo, and when I went to pay, she immediately pegged me as a musician. She said she was a singer and songwriter looking for a guitarist who could write songs. We hooked up the next morning. I listened to her for just 10 seconds and I knew I was in it for the long haul. So, I guess its no surprise that we've reconnected once again, but it's ironic that it's to put out 'Glad You're Here' - a song about reconnection."
Gray's genre-defying style was an easy fit with Solo's own diverse musical influences. "Growing up in Shaker Heights, Ohio -- a Cleveland suburb -- I had access to a lot of different types of music. The lead singer of the O'Jays lived on one side of me and members of The Dazz Band lived on the other. I played in R&B and funk bands with their kids. They called me the 'token white rock guitar player'. This was unusual back then because music groups were not as racially mixed as they are now. Those experiences came into play when Macy and I hooked up because we were able to successfully combine a pop/rock vibe with that classic funk back end."
For both "Sweet Baby" and "Glad You're Here," the original compositions came together quickly. "Each of these songs was written in less than a day -- the music and lyrics came right out," says Solo. "Something just clicked and, BOOM, the right musical and lyrical hooks came pouring out."
Solo's skills as a composer, arranger, producer, and multi-instrumentalist have always kept him working. Nevertheless, Solo admits that his contribution to "Sweet Baby" definitely provided a career boost. "It was amazing -- one day I was dancing on the fringes of the big-time, and the next day, when it was announced that 'Sweet Baby' was going to be the featured single, the phones were ringing off the hook," says Solo. "Within 24 hours, every major music publisher from the U.S. and several from overseas had called to offer me a contract."
Solo signed a worldwide deal with Famous Music (the music publishing division of Paramount) and quickly became the company's main staff writer/producer. "Famous Music really helped me make connections with a lot of other writers, artists and executives," says Solo. "They helped me establish serious roots in the music industry."
Those roots have helped Solo contribute to a diverse range of projects including being a featured composer on the BMG Killer Tracks film score library and the Cradle of Filth and The Used orchestral tribute albums. He has also accumulated numerous credits for film and TV, ranging from projects with NBC and CBS to Polygram and Universal.
Most of all, he is proud of his work with Gray. "I'm definitely happy that our collaborations keep popping up on her albums," says Solo. "My definition of a good song is this: a good song expresses what people don't know how to say. People have told me 'Glad You're Here' does just that in a really soulful and memorable way."
For more information about Joe Solo, please visit http://www.joesolo.com or contact Solo Productions, Inc. at info @ joesolo.com or 818-703-0702.
Also please visit http://www.macygray.com.
###